Charter school performance. StateImpact Florida gives more ink to University of Central Florida Professor Stanley Smith. His latest analysis finds little difference in academic performance between charter schools and district schools in Florida.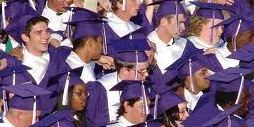 Grad rates. The new, tougher federal formula could backfire if states ease up on their graduation requirements, writes the EdFly Blog. Declining rates in Citrus County are "a black eye for schools, but a gut punch for the community," editorializes the Citrus County Chronicle.
Guidance counselors. Most of the state's public schools would be required to hire more under a bill filed by Sen. Nancy Detert, R-Venice, reports the Tallahassee Democrat.
Tony Bennett's contract. Gradebook.
School security. Tampa Bay Times. Tampa Tribune. South Florida Sun Sentinel. Gainesville Sun.
Principal misconduct. A Duval principal is demoted over testing issues. Florida Times Union.
"Peaceful coexistence." Sometimes there is tension when schools share campuses. Lakeland Ledger.