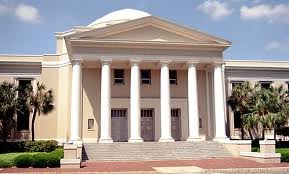 Pension ruling. In a case brought by the state teachers union, the Florida Supreme Court rules 4-3 that it is constitutional for the state to require teachers and other state workers to contribute 3 percent of their pay towards their pensions. Coverage from the Herald/Times Capital Bureau, Palm Beach Post, Lakeland Ledger, Orlando Sentinel, Daytona Beach News Journal, Tallahassee Democrat, Associated Press. StateImpact Florida considers potential impacts on the lawsuit against SB 736.
Teachers in Palm Beach and Broward are "devastated," reports the South Florida Sun Sentinel. "Bitter disappointment," writes the Tampa Tribune. "Dashed hopes," writes the Gainesville Sun. The state should offer modest raises to "lessen the sting," editorializes the Tampa Bay Times. Gov. Rick Scott should convert the savings into better teacher pay, editorializes the Palm Beach Post.
School safety. Gov. Scott will "listen to ideas" but not push for gun law changes, reports SchoolZone. Some Pinellas schools will consider "buzz-in access," reports the Tampa Bay Times. Officials in the Hernando district are quietly dropping the issue, the Times also reports. The Palm Beach County district will spend $400,000 on school police aides, with more expenses on the way, reports the Palm Beach Post. Escambia Superintendent Malcolm Thomas wants armed, plainclothes marshals, reports the Pensacola News Journal.
Charter schools. The Clay County School Board shoots down an application for a performing arts academy. Florida Times Union.
Test score limbo followup. State Sen. John Legg says fix the problem with concordant scores, pronto. Tampa Bay Times.
Teacher evals. Pasco officials say in response to a query from Patricia Levesque at the Foundation for Florida's Future that the district isn't ready for the new requirements, given the need to develop hundreds of new tests, reports the Tampa Bay Times.
School spending. Nicer playgrounds and wireless networks will be the first improvements from a voter-approved, $1.2 billion bond referendum in the Miami-Dade district, reports the Miami Herald. Among other changes, the Hillsborough school district should increase the salaries of special education aides to improve services for students with disabilities, editorializes the Tampa Bay Times. The public has a lot of questions about proposed cuts in St.  Lucie County, reports TCPalm.com. Facilities funding is drying up in Bay, reports the Panama City News Herald.
Bible distribution. Atheists say they plan to hand out materials after a Christian group distributed Bibles in Orange County high schools. Orlando Sentinel.
Rezoning in Seminole. The latest from the Orlando Sentinel.
Superintendent search in Manatee. The latest from the Bradenton Herald.