It was the impromptu performance that theater students live for, and exactly what the stranger who walked inside their classroom came to see.
Fifteen-year-old Samantha Ely, a freshman in Blake High School's performing arts magnet program, was front and center, singing a cappella to an entourage of visitors including Scott Thomas, the new executive director of Magnet Schools of America.
"That was amazing,'' said the former social studies teacher from Minnesota.
Not satisfied as a mere audience member, Thomas took the stage at the Tampa, Fla. school, polling Samantha and her classmates on what they liked best about attending a school with a specialized track of study.
"Freedom,'' said one girl as she brushed her hands across her ripped jeans. "There are no cliques. And I can dress like this.''
"We're all doing exactly what we like the most,'' said another.
Thomas wanted to hear more.
"How do you know when you're in high school what you want to do with the rest of your life?'' he asked the room full of future singers, dancers and actors.
"I go to bed singing songs,'' said one of the seniors. "I wake up singing songs.''
And in between, she said, she feeds her passion at Blake, singing in two to three classes.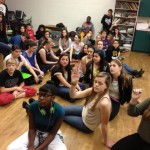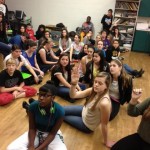 That's what magnet schools are all about, Thomas said: Getting kids excited about learning by giving them something they love to learn. And with choice the mantra of public education today, it's an approach that's resonating with students and parents – and, in Thomas' view, fueling a revival for magnets.
Students can choose a magnet instead of their neighborhood school, usually by applying through the district and/or participating in a lottery, depending on the program. The magnets offer specialized tracks – arts, robotics, culinary trades, medical and health tracks, and many more.
Often, they resemble career academies, Thomas said, in that students focus on particular fields and, in some cases, earn certificates that help them continue their education after graduation or go straight to a job. In other respects, they operate like charter schools, giving administrators the freedom to develop curriculum, train and recruit teachers, and seek their own grants and partnerships.
"For a long time, the spotlight has solely been on charters,'' said Thomas, who was touring magnet schools in Tampa this week before heading to a school choice conference in Fort Lauderdale. "They're sexy, they're interesting.''
In an interview last year with The Hechinger Report, Richard Kahlenberg, a senior fellow at The Century Foundation and a magnet school proponent, said that's part of the reason why charters get so much more attention.
"Education policy is particularly susceptible to fads,'' he said. That has resulted in stagnate funding for magnet schools- about $100 million a year since 1990, Kahlenberg said, while charter school appropriations have sky-rocketed to about $250 million today.
The number of charters has grown from 1,592 in 1999-2000 to 6,002 this school year, with 529 new ones expected to open this fall, according to the National Alliance for Public Charter Schools. In Florida, there are 574 charter schools. Hillsborough has 43.
After nearly two decades on the scene, though, charters are receiving more scrutiny, Thomas said, with some coming under fire for poor academic performance and financial mismanagement.
"I think people are finding that maybe some charters aren't what they're all cracked up to be,'' Thomas said. "There's a lot we can learn from charters, but there's a lot charters have learned from us.''
And there's still plenty of room at the school choice table for magnets and charters, he said. "Competition is good."
Magnet schools surfaced in the 1970s to push integration of inner-city schools, but in recent years, their mission has broadened. Districts have used them to ease crowding at other schools and to offer parents more options, while at the same time continuing to spur diversity.
It's the latter goal where magnets, numbering around 4,000 nationwide, can outdo some of their charter counterparts, Thomas said. Students come to magnet schools from different neighborhoods, bringing varied ethnicities, languages, backgrounds and interests, he said.
"They promote cross-cultural communication, empathy, multiple perspectives,'' Thomas said.
Studies show that after graduation, magnet students are more likely than their neighborhood school counterparts to "live in integrated neighborhoods, to have friends who don't look like them,'' he said. Research also shows they miss fewer days, get in less trouble and, most importantly, graduate at higher rates, Thomas said.
Thomas was hired in May by a committee of Magnet School Of America board members, including Hillsborough's choice and magnet supervisor, Susan King, and superintendent MaryEllen Elia.
Thirty-four of Hillsborough's more than 140 schools offer magnet themes, including animal science, computer game design, gifted, International Baccalaureate, STEM (science, technology, engineering and math), architecture and robotics.  The district offers another 14 "attractor'' programs at other schools.
The magnets are funded, in part, by a three-year, $11 million federal Magnet Schools Assistance grant. Hillsborough also looks to the community and beyond to bolster programs, partnering with other organizations such as NASA, the Helios Foundation and the Hillsborough Education Foundation.
In 2011, Step Up For Students, the nonprofit that administers tax credit scholarships in Florida, donated $100,000 to two single-gendered schools in the district, with a matching grant from the Walton Family Foundation. Step Up, which in 2010 also contributed $100,000 to the RCMA  charter school in Wimauma with matching  funds from Walton, co-hosts this blog.
"We find funding wherever we can,'' King said.
Part of Thomas' mission in Florida, which will also include a stop in Miami, is to look at ways to strengthen magnets. His overall goal, he said: increase access. He wants more programs so districts can do away with waiting lists, and that means more funding.
So far, Thomas said he likes what he sees in Tampa, especially the district's commitment to hiring educators who once worked in the industries they now teach their students about.
"The caliber of staff blew me away,'' Thomas said.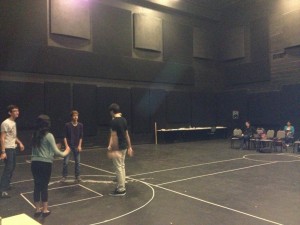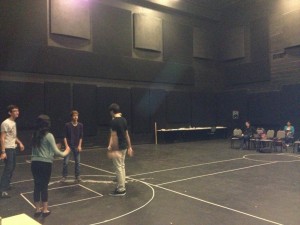 At Blake, set design teacher Mike Wood is a professional lighting designer with his own business. Ballet teacher Albena Arnaudova danced with Bulgaria's national ballet before becoming an instructor. Costume design instructor Jared Porter is an actor and designer who shows students new to sewing and pattern-making how to create dresses to donate to girls in Africa.
"This is learning in action,'' Thomas said. "That is really the future of education.''