California: The award-winning American Indian Model charter schools face closure after failing to fix problems with financial oversight that resulted in $3.8 million of questionable expenses (The Oakland Tribune).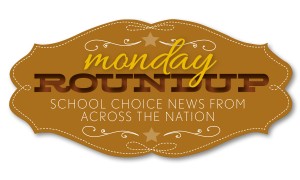 Wisconsin: Three former state House speakers push for a voucher expansion (Associated Press). School choice options continue to grow with proponents pointing to achievement gains (WisconsinReporter).
Indiana: Ball State University pulls its sponsorship of seven struggling charter schools, likely ensuring their closure (Associated Press). School choice supporters press for an expansion of the state's voucher program (NWI.com).
Texas: A school choice proponent testifies that a tax credit scholarship program would save the state $2 billion a year (Houston Chronicle). More from San Antonio Express News. Waco-area school boards support a resolution opposing any publicly funded private school choice options for the state (Waco Tribune Herald).
Michigan: The legislative path for Gov. Rick  Snyder's school choice expansion plans remain murky (MLive.com).
Tennessee: A school board member in Knox County tries unsuccessfully to convince his colleagues that private school vouchers are a good thing (Knoxnews.com). State lawmakers scrutinize Tennessee Virtual Academy, operated by K12 Inc., over poor test results (Tennessee Public Radio). Memphis charter schools are poised to grow – again (Memphis Business Journal). The NAACP pushes for more regulatory accountability for charter schools in the wake of complaints about one in Memphis (Memphis Commercial Appeal). Gov. Bill Haslam is expected to unveil his proposal for a limited statewide voucher in his State of the State speech tonight (News Channel 5).
New York: Twenty-four more Catholic schools in the state will close because they're not financially self-sufficient (New York Times).
Florida: Legislation to curb payouts to charter school employees is filed in the wake of a scandal involving a $500,000 payout to the principal of a failing Orlando charter school (redefinED). New Education Commissioner Tony Bennett seems to suggest the current accountability structure isn't enough for private schools that accept vouchers (redefinED).
Georgia: The Southern Education Foundation says the state's tax credit scholarship law is being widely abused (Atlanta Journal Constitution). Enrollment is growing fast at the state's virtual schools (Augusta Chronicle).
Mississippi: A charter school expansion bill squeaks through the House Education Committee (SunHerald.com).
North Carolina: A state lawmaker says he plans to file a bill that would turn the Forsyth County school district into the state's first charter school district (Winston Salem Journal).
South Carolina: Lawmakers will try again this year to establish tax credit scholarships for low-income students (The State).
New Jersey: Gov. Chris Christie's administration recommends tougher rules for charter school teachers to receive tenure (NJSpotlight).
Pennsylvania: Charter school performance ratings fall under a new system ordered by federal officials in place of a state grading system they deemed too lenient (The Morning Call). More from the Pittsburg Post Gazette and The Philadelphia Inquirer. Bills calling for charter school funding changes spark complaints from cyber charter supporters (Pittsburg Post Gazette). Some Philadelphia parents are upset about district expansion plans for charter schools (The Notebook).
New Hampshire: A charter school funding bill is moving forward in the Legislature but isn't likely to curb the current moratorium on new charters (Nashua Telegraph).
Washington, D.C.: Traditional public schools need a serious marketing campaign if they are to compete with popular charter schools, an education leader warns (Washington Post).