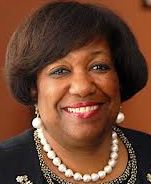 Sad news: Arlene Ackerman, a big-city superintendent who became a vocal supporter for expanded school choice, died over the weekend.
Ackerman headed the school districts in Washington D.C., San Francisco and Philadelphia before retiring in 2011. In her wake, she left a stunning announcement in an op-ed for the Philadelphia Inquirer: Real education reform, she wrote, won't come from within because teachers unions, politicians and others vested in the system won't budge. The solution, in her view: A lot more choice.
Last May, in a podcast with redefinED, Ackerman talked in more detail about her evolution on school choice, including a turning point when she realized the academic trend lines just weren't rising anywhere near fast enough. She said she wrote an email to hundreds of friends and colleagues before the op-ed was published, to give them a heads up and make them think: "I hope it provided an opportunity for people I know and respect to think about why somebody like me, who spent so many years within the traditional public school system fighting for radical change, would embrace charters and vouchers for low-income families," she said.
Most of her colleagues didn't write back, but Ackerman was undeterred. More choice "will put pressure for real reform to take place because there's competition," she said. "Let's face it: This country is built on competition. And it's good."