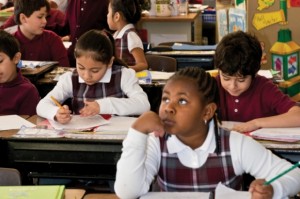 "I am heartbroken," was Supreme Court Justice Sonya Sotomayor's response upon hearing that her Catholic alma mater, Blessed Sacrament School in the Bronx, would be among the 24 latest Catholic schools to close in an impoverished area. She continued in her New York Times interview to describe it as "symbolic of what it means for all our families, like my mother, who were dirt poor … It was a road of opportunity for kids with no other alternative."
In this country, we unquestionably have a shortage of quality schools, particularly those that serve urban poor families. So why do we continue to watch as hundreds of quality faith-based schools close because the financial deck is stacked against them?
Families would eagerly choose them. They have served their communities for decades. They've been effective. As Sotomayor noted, their dropout rates are lower and their college attendance rates are higher than comparable public schools, not to mention the significant output of distinguished civic and corporate leaders. U.S. government surveys show parents are consistently highly satisfied with them – at even higher rates than parents in chosen public schools.
The continuing closure of nearly all types of faith-based schools is a disturbing trend. And raising awareness with the public and policymakers about it is why the American Center for School Choice launched its Commission on Faith-based Schools. At its second meeting, recently held in Jacksonville, Fla., this ecumenical group with representation across the spectrum of faith-based communities decided to organize a national conference in Austin, Texas in the May/June time frame. It will focus on the peril these schools face, and draw attention to how much will be lost in American education if families who wish to choose faith-based schools cannot continue to do so. The target audience will be religious leaders, media, the research community, and legislators and staff.
In the past two years, impressive progress has been made in expanding school choice to include these schools. We now have 32 private school choice programs in 16 states and Washington, D.C., with the enactment of five new programs and the expansion of six existing ones in 2012.
The commission believes that with a focused effort and call to action, these programs can and need to grow at a faster rate to preserve the opportunities faith-based schools bring to urban communities in particular.
Texas, for example, will be considering omnibus education reform legislation this year that will include a tax credit scholarship program. Holding the national conference there will further bring attention to the need for this legislation in one of the nation's largest states.
The commission also retained Vicki Murray & Associates last fall to assemble the evidence on the value and contribution of faith-based schools to American education, and to review the progress to date. This project is building a web site that will go live at the conference, enabling visitors to gather data on schools by state, as well as to access a library of more than 4,000 records, research reports, books, journal articles, quantitative data and evaluations on faith-based schools dating back to the 1970s. Eventually, this library will be searchable.
The commission will also issue a report that highlights the issues and opportunities faith-based schools have in 2013, based on the key findings and conclusions from this project.
The commission will announce the exact date and venue of the conference within the next few weeks. So keep watching for details on how to participate.