For their project, Gussie Lorenzo-Luaces and three classmates at Deer Park Elementary in Tampa, Fla., wanted to find out what kind of paper allows a paper airplane to fly the farthest. After five trial runs, they determined copy paper, with its smooth surface and stable weight, worked best.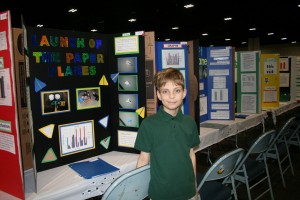 The boys' exhibit was among more than 1,800 presented at last week's 33rd annual Hillsborough Regional STEM Fair, which featured 2,000 students from district schools, charter and private schools, and home schools.
That diversity was a big plus for Gussie's mom, Susie, who was curious where other students in the county registered on the science track.
"I just feel they don't need separation,'' she said. "I like seeing them all together.''
Increasingly, though, Hillsborough students are not all together in academic competitions.
In the past year, district officials have begun excluding charter schools from some districtwide contests, including Battle of the Books, a reading competition, and the Math Bowl and Math League for elementary and middle school students.
The reasons for the splintering are not clear. But everything from cost, to fear of competition, to a desire for charter schools to be more independent, has been suggested. At the least, the move points to potential pitfalls as school choice options mushroom across the landscape – even in a district with a choice-friendly reputation like Hillsborough.
"They're all our children," said Lillia Stroud of King's Kids Academy of Health Science, a new charter in Tampa. Stroud said she can relate to the district's concerns, but "separation at any level is disheartening."
It's also not clear whether similar trends are happening in other Florida districts. Robert Haag with the Florida Consortium of Public Charter Schools said he had not heard any such stories in his home county of Broward or beyond. Dwight Bernard, who oversees 120 charters for Miami-Dade Public Schools, said the trend in his district is, if anything, "moving toward more inclusiveness."
Meanwhile, Mike Kooi, who heads the school choice office for the Florida Department of Education, said he has heard similar stories across the state – though none had risen to the level of a complaint to his office.
According to Hillsborough district officials, increasing costs to staff the events and the growing number of charters – 43 now, with seven more expected to open by fall – make it difficult to continue to invite them.
As participation in such events has grown, district expenses have climbed considerably, said Jenna Hodgens, who oversees charter schools for the district. At the same time, Hillsborough lost a chunk of state money it receives to monitor charters, she said. A change in law two years ago reduced the administrative fee for "high-performing charters" from 5 percent to 2 percent.
"That does change the landscape a lot,'' Hodgens said. When it comes to charter schools, she said, "we always try to go above and beyond. But I think the bigger we have grown, the more sense it made to let them do for themselves.''
Despite multiple requests, the district did not provide redefinED with district costs for the events, or estimated savings from excluding charters.
For events that are strictly district run, like Battle of the Books, and the Math Bowl and Math League, charters are no longer invited. But the district has provided staff assistance to help the schools create their own events, said Hillsborough Superintendent MaryEllen Elia.
"We want to help them,'' Elia said, but "charters want to be independent, too.''
The charters themselves offered mixed views.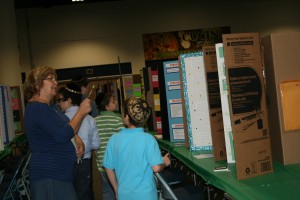 Gary Hocevar, a former charter school principal and past president of the Charter Leaders of Florida, a group that represents charter operators in Hillsborough, said the district's move was appropriate.
"I personally think that MaryEllen made the right decision,'' he said. "She's not anti-choice. They're receiving less funding from the state. When the money was coming in from the Legislature, we were included in many events.''
With recent cuts, "there was not a thing we could come up with for a compromise,'' he said.
Instead, Hocevar advised his charter school peers to grab the opportunity to create their own competitions. "Invite the traditional schools," he told them, "and blow them away."
Charter school operators told redefinED they are pushing ahead. They held their own Battle of the Books last school year and will do so again in May with eight or nine charter schools participating.
"Last year, we had to scramble,'' said Catherine Gorman, media specialist at Advantage Academy of Hillsborough in Plant City.  The school, with 300 elementary students and 150 middle school students, had already ordered the books for the contest when they learned they were no longer a part of the district-run competition.
"Somehow we pulled it off,'' she said, noting the experience was "kind of nice. If you … do it on your own, you can see what went well and make the changes you want to.''
Eventually, charter operators hope to hold math competitions and, maybe, form their own sports league similar to the Florida High School Athletics Association.
But some charter leaders, who enjoyed the friendly competition with district schools, are disappointed about the divide.
Tahvia Shaw of Terrace Community Middle School in Thonotosassa said the district notified her a week before last school year's Math League competition that charters no longer were included.
"We were very surprised and disappointed,'' she said. Her parents, whose children has been preparing for months, barraged the district with phone calls. The district relented.
Terrace Community ended up placing first overall.
"This year, unfortunately, we are unable to defend our title,'' said Shaw, who hopes to organize a similar but charters-only event in the spring. The competition was good not only for her school, Shaw said, but for the district.
District administrators said events that lead to state competitions, such as Odyssey of the Mind and Hillsborough's STEM fair, will still include students from school choice sectors.
But even the STEM fair, among the largest in Florida, is feeling a strain.
Five years ago, there were 150 schools participating and $45,000 in the operating budget, said Larry Plank, the district's director of K-12 STEM education. This year, the number of schools doubled and the costs rose to $75,000.
The district pays the rental fees for use of the Tampa Convention Center, Plank said, and its schools each pay a $75 registration fee. Charter schools used to pay the same amount. But to help offset some of the rising costs, they now they pay $150 – just like the private schools, Plank said.
The bulk of other funding comes from the Hillsborough Education Foundation and its event sponsors, which included the Moffitt Cancer Center, Mosaic, Verizon and the Port of Tampa.
Also contributing: John Kirtley, a Tampa businessman who serves as chairman of Step Up For Students, the nonprofit that administers the Florida Tax Credit Scholarship and co-hosts this blog.
The hope, said Hillsborough Education Foundation President Phil Jones, is to be able to raise enough in future donations to offer all the schools a discount.
"We have a real strong belief in including every student,'' Jones said.
This year's STEM fair featured the most private, charter and home school students ever, organizers said.
Teacher Karen Solomon brought some of her students from the private Hebrew Academy  in Tampa. The school didn't participate this year, but hopes to next year.
"They are getting ideas and seeing what the judges are looking for,'' Solomon said.
And that's exactly what the fair is supposed to do, organizers said: inspire young minds no matter where they go to school.
"It's kids – kids enjoying science, technology, engineering and math from all walks of life,'' said Pam Caffery, the district's supervisor of middle school science education. "To me, of course it's a positive. It's a positive for any kid.''
When the finalists move on to the state level, they'll be coming from all those sectors, Caffery said.
But "they'll attend as Team Hillsborough.''