Indiana: Republican lawmakers scale back a proposal to eliminate a requirement that students attend public schools for one year before becoming eligible for a private school voucher (Associated Press). They pass it mostly along party lines in the House (Associated Press). They're advancing a proposal to switch administration of the voucher program away from newly elected Superintendent Glenda Ritz (Associated Press). They're also considering a Democratic proposal to give school districts with more than 50 percent of their students in charter schools the ability to approve new charters (Post Tribune).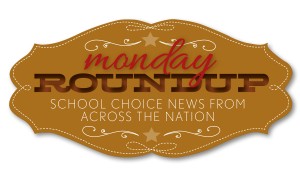 New Hampshire: The state House votes to repeal the tax credit scholarship program passed into law last year over Gov. John Lynch's vote (New Hampshire Public Radio).
Iowa: The state's Catholic bishops push for vouchers (Iowa Radio).
Texas: Senate Education Committee Chairman Dan Patrick, R-Houston, files legislation to lift the cap on charter schools and create a new body to authorize them (Texas Tribune). More from the Austin American Statesman and the News-Journal. Patrick's proposal for tax credit scholarships isn't getting a warm reception from fellow lawmakers (San Antonio Express News). Thousands of people turn out for a Save Our Schools rally to restore education funding, reduce standardized testing and oppose vouchers and charter schools (KVUE.com)
Alaska: A debate over a proposed constitutional amendment that could open the door to private school vouchers is heating up (Anchorage Daily News). The chair of the Senate Education Committee says his committee will still hold hearings on vouchers even though it will no longer be considering a bill on the proposed amendment (Alaska Public Radio News).
California: The race for three seats on the L0s Angeles Unified School Board has drawn national interest – and financial support – due to three candidates who favor parental choice, charter growth and data-based teacher evaluations (Los Angeles Daily News).
Idaho: Lawmakers propose measures to allot charter schools $1.4 million in facilities funding and allow colleges, universities and nonprofit groups to authorize charter schools (Idaho State Journal). More from Idaho Education News.
Georgia: Amid the debate on parent trigger laws and charter schools, one education advocate ponders: Whose responsibility is it to educate a child — society's or the parent's? (Atlanta Journal Constitution). The Georgia Legislature considers an expansion of the tax-credit scholarship program (Rome News Tribune).
Florida: Charter leader says there shouldn't be much of a difference between teacher evaluations at charters and those at regular public schools (StateImpact Florida).
South Carolina: A proposed bill that limits home-schoolers and requires them to take state tests has met with opposition from parents and even the lawmaker who sponsored the bill (The Post and Courier).
Alabama: The Christian Coalition of Alabama criticizes a bill that would let public school districts seek wavers from rules and regulations aimed at improving teaching and learning, calling the move a "back door" way to introduce charter schools and undermine teacher tenure (AL.com).
Mississippi: Against a backdrop of struggling schools, a debate grows about where charter schools fit into reform efforts (Jackson Clarion-Ledger).
Tennessee: The sponsor of a voucher bill says he's willing to consider expanding the proposal beyond low-income students in low-performing schools (Nashville City Paper). A bill to prevent struggling online-only schools from expanding clears a House committee (Associated Press).
North Carolina: A Charlotte charter school is accused of copying another charter's application, raising questions about the state's ability to deal with a deluge of requests to create new, nontraditional public schools (Charlotte Observer).
Wisconsin: Gov. Scott Walker proposes a trifecta of school choice expansions: a funding increase for vouchers, the creation of a new voucher for disabled students and a statewide authorizer for charter schools (Milwaukee Journal Sentinel). Wisconsin is just one of many states where voucher and/or tax credit scholarship programs are being proposed for creation or expansion (Capital Times).
Illinois: The Chicago school district recommends shutting down two charter schools because of poor performance (Chicago Sun Times). More from the Chicago Tribune.
Ohio: Districts are trying to recoup money going to charter schools, with one adding a director of technology and possibly creating its own e-school to better compete (Journal News).
Missouri: The success of the City Garden Montessori charter school in St. Louis has folks asking whether it's an anomaly or replicable (St. Louis Post Dispatch).
New York: Students in New York City charter schools make larger learning gains, on average, in both reading and mathematics, according to a new Stanford University report (SchoolBook).
Massachusetts: Another Turkish-led charter school is poised to open, adding to a growing number of math- and science-focused charter schools across the country operated by Turkish-Americans (The Boston Globe).
Delaware: The state Board of Education votes to shut down a long-troubled charter school due to academic, financial and administrative problems (Washington Post).
Pennsylvania: The Philadelphia school district is overhauling nine struggling schools, including three that will be converted to charters (Philadelphia Inquirer).
Washington, D.C.: With 43 percent of students attending charters, some education advocates call for more equitable funding, with one suggesting taxpayer dollars to follow the child (Washington Times).