The first and only time I met Onicka Patterson was in May 2012, during a Step Up For Students donor event.
She was one of 22 kindergartners and first-graders from Manatee Learning Academy http://www.manateelearningacademy.com/ who joined Step Up and Kemper Corporation representatives for a tour of the Southeastern Guide Dog facility in Palmetto, Fla.
There was a "puppy hugging" session, of all things. With Onicka's neatly braided hair, full cheeks and unyielding smile, she was hard to miss.
When an 8-week-old black Labrador retriever set his paws on Onicka and started licking her face, the 5-year-old Step Up scholar was all giggles. Her playful nature drew the attention of many that day, especially my colleague, Ashley McDuffie, who took photographs including several of Onicka.
Sadly, the Step Up staff learned this week that Onicka, now 6, was in a serious car accident on Dec. 19, and is still in the hospital fighting for some semblance of the life she once knew. A story that ran Jan. 25 in the Bradenton Herald http://www.bradenton.com/2013/01/25/4365384/manatee-learning-academy-to-hold.html filled in the details.
The main photograph the newspaper printed of a smiling Onicka with a puppy was one taken by Ashley. The photographs of Onicka in her hospital bed are hard to view, but, clearly, this child is a fighter.
Onicka already has experienced several miracles since her accident, according to the blog http://www.prayers-for-onicka.com/, which was set up to support the family. They are struggling to pay medical bills. Those who wish to help can donate to the family directly on this fundraising site by hitting the give button on the left side of the page.
Onicka wasn't expected to survive emergency brain surgery after the crash, but she did. And on Dec. 24, doctors told her family she will live. She has a long road of recovery ahead, and it's still unclear how much damage she has suffered.
But Onicka is making progress. She has been able to sit up and has even written her name. On a special Facebook page https://www.facebook.com/#!/groups/510036345693737/?fref=ts that follows Onicka's story, her mother, Donna Pearson, posted on Jan. 27 that her daughter spoke for the first time that night.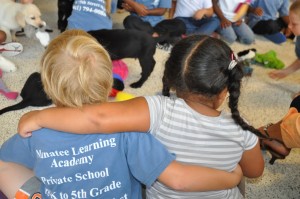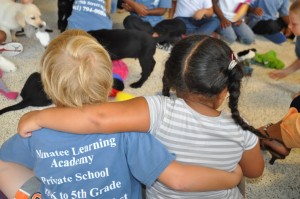 "God bless her she i(s) a real warrior," Pearson wrote. A video clip shows Onicka in her hospital bed. "Hello Mommy," she says quietly.
Our hearts are heavy, and our thoughts and prayers are with Onicka and her family, which extends to Manatee Learning Academy in Bradenton, Fla. Her Step Up family hopes she once again finds her strong voice and sees many more miracles so she can improve every day.
Editor's note: Step Up For Students is a nonprofit that oversees the Florida Tax Credit Scholarship, and the co-host of this blog.