Florida Gov. Rick Scott delivered the State of the State Address to the Legislature on the opening day of its session Tuesday, stressing jobs and education. Here are his remarks on education, as prepared for delivery: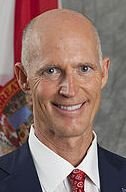 Our work to cut spending and live within our means over the last two years has allowed us to once again invest in education.
The workers of tomorrow are in Florida classrooms today.
When I first stood before you in 2011, I said, "The single most important factor in student learning is the quality of teaching."
Since that time, we eliminated teacher tenure. We signed performance pay into law, and it will take effect in 2014.
Florida's education system is making tremendous progress, due in large part to our great teachers and the work begun by Governor Bush and many in this legislature.
Our students and teachers were recently ranked sixth for educational quality; and our fourth-graders scored among the highest in the world on a recent reading evaluation.
Accountability is working.
The best way we can build on this progress is to reward our hard-working teachers with a $2,500 pay raise.
Some say they are afraid that giving raises to all teachers may mean that a teacher doing a bad job gets rewarded. But, thanks to our work, we are now in a better position than ever before to reward good teachers and move bad teachers out of the classroom.
We don't want a war on teachers; we want a war on failure.
An investment in Florida teachers is an investment in Florida's future.
Teachers change lives.
Greco Middle School teacher, Elizabeth Heli, is here today from Tampa. Will you please stand? Elizabeth began her career as an engineer, but decided she wanted to share her passion for science by teaching it. Please join me in a round of applause to honor her service.
Orange County School District Superintendent Barbara Jenkins is also here. Barbara will you please stand so we can honor your commitment to the teachers in your district and your dedication to student achievement.
Thank you, Elizabeth and Barbara, for the work you do to help make dreams come true for the next generation of Floridians.
I want to ask all of you to stop and think of your favorite teacher.
Like me, you all are probably here today thanks to a great teacher who believed in you. Will you please stand now in honor of that great teacher?
Please join me in a round of applause to honor the teachers represented here – and every teacher across our state.
In total, our budget increases K-12 education funding by more than $1.2 billion.
This billion dollar commitment builds on our billion dollar investment in K-12 education last year.
Our total education investment of $10.7 billion in state funding for K-12 schools this year is the highest state funding level in Florida history.
This represents an increase of more than $400 in per student funding over the current fiscal year.
I am asking for your help to make this historic commitment to education funding a reality for Florida families.
UPDATE at 2:41 p.m.: Full remarks here.