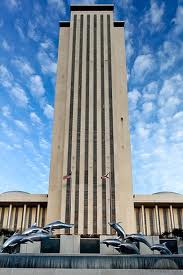 Editor's note: Another year, another legislative session, another stack of school-choice bills in Florida. Here's a roundup of choice legislation that lawmakers will consider in the annual session that begins today.
Career Academies:
SB 1076 by Sen. John Legg, R-Lutz. Expands the "Career and Professional Education Act (CAPE)," revising requirements for high school graduation and accelerated high school graduation, and allowing students to earn and substitute certain industry certifications for certain course credits. Also requires districts to make digital materials available to students and to use the Postsecondary Industry Certification Funding List in determining annual performance funding distributions to school districts and Florida College System institutions, etc.
Charter Schools:
HB 373 by Rep. Joe Saunders, D-Orlando. Provides that a contract for a charter school employee or service provider may not extend beyond the school's charter contract, and that the employee or service provider is not entitled to compensation after the school's closure. (Identical to SB 780 by Sen. Geraldine Thompson, D-Orlando.)
HB 453 by Rep. Victor Torres, D-Orlando. Requires the compensation and salary schedules for charter school employees to be based on school district schedules. (Identical to SB 784- Charter Schools by Sen. Geraldine Thompson, D-Orlando.)
SB 744 by Sen. David Simmons, R-Altamonte Springs. Requires charter school applications to demonstrate the applicant is financially qualified to open and maintain a high-quality charter school, requires the charter to set forth detailed reporting of the financial operations of the school to ensure employees are not paid unreasonable compensation, and requires that the term of the charter must provide for cancellation of the charter if the school becomes insolvent, fails to provide a quality education, or does not comply with applicable law.  The bill also clarifies that a charter school system shall be designated a LEA solely for the purpose of receiving federal funds if certain criteria are met.
SB 828 by Sen. Rene Garcia, R-Hialeah. Grants school districts the ad valorem tax exemption given to charter schools, and restricts the use of capital outlay funds for property improvements if the property is exempt from ad valorem taxes. It restricts charter schools or technical career centers having financial problems from certain activities, and grants flexibility to high-performing school choice districts.
HB 1001 by Rep. Karen Castor Dentel, D-Maitland. Prohibits charter schools from requiring, soliciting, or accepting certain student information before student's enrollment or attendance. Also requires charter schools to submit attendance plans to the school district for students enrolled in school; provide funding to the school district in event of student transfers; and report to the school district certain student enrollment and wait-list information.
SB 1092 by Sen. Geraldine Thompson, D-Orlando. Requires charter school to submit attendance information for each student to the school district, and requires the charter school to provide a prorated portion of per-student funding to the school district if a student transfers to another public school in the school district before the last day of the school year.
SB 1164 by Sen. Kelli Stargel, R-Lakeland. Revises the eligibility criteria for extracurricular activities to include students in charter schools, and revises the criteria for bylaws, policies, or guidelines adopted by the Florida High School Athletic Association. (Compare to HB 1279 by Rep. Larry Metz, R-Groveland.)
SB 1204 by Sen. Jeff Clemens, D-Lake Worth. Requires a student transferring from a charter school to a traditional public school to take a placement test selected by the district school board.
SB 1206 by Sen. Jeff Clemens, D-Lake Worth. Provides that the performance of certain transfer students, as measured by learning growth, may not be included in the performance evaluation of certain traditional public school personnel for that school year.
SB 1230 by Sen. Jeff Clemens, D-Lake Worth. Provides that when a charter school is dissolved, any unencumbered public funds revert to the sponsor and other funds revert to the DOE to be redistributed among eligible charter schools.
SB 1282 by Sen. Kelli Stargel, R-Lakeland. Requires policies agreed to by the sponsor and charter school to be incorporated into the charter contract; authorizes a charter school operated by a Florida College System institution to serve students in kindergarten through grade 12 if certain criteria are met; prohibits the governing board of a charter school that is subject to corrective action from submitting additional applications to open new schools; requires the use of a standard charter contract unless the applicant requests in writing that the sponsor use a nonstandard charter contract; provides that upon notification of nonrenewal or termination of its charter, a charter school may not expend more than $10,000 without prior written approval from the sponsor; requires each charter school to maintain a website; requires the sponsor to reimburse certain federal funds to charter schools; requires facilities previously used for K-12 educational purposes to be made available at no cost for a charter school's use until the beginning of the fourth fiscal year the school is open; and revises high-performing charter school requirements.
SB 1390 by Sen. Bill Montford, D-Tallahassee. Creates the Florida Innovation Zone Schools Act to allow school districts to designate certain schools to serve as incubators of innovation and transformation of public education.
SB 1396 by Sen. Aaron Bean, R-Fernandina Beach. Authorizes the Commissioner of Education to authorize a school district to apply to establish a charter school if the school will be located in an area that has more than one school district and serves an educationally disadvantaged community; revises the charter school application requirements; requires sponsors and applicants to use a uniform model contractual agreement developed by the DOE; allows a charter school to provide virtual instruction without approval from the school district; prohibits a charter school employee from serving on the governing board and from entering into a contract with the school that goes beyond the term of the charter contract; requires federal funding to be paid to the charter school; and revises certain requirements for high-performing charter schools and high-performing charter school districts. (Similar to HB 1267 by Rep. Janet Adkins, R-Fernandina Beach.)
HB 7009 by Choice and Innovation Subcommittee. Provides for increased charter school accountability by prohibiting a charter school, upon termination of the charter, from expending more than $10,000 without prior written permission from the sponsor; prohibiting employees of the school or their spouses from serving on the governing board; and prohibiting the governing board of a charter school that is subject to corrective action from submitting additional applications to open new schools. It also clarifies provisions for high-performing charter schools; requires the DOE to adopt a standard contract and contract renewal; and requires that district K-12 educational facilities that are not in use must be made available to charters at no cost.
Digital Learning:
SB 598 by Sen. Gwen Margolis, D-Miami.  Requires virtual instruction programs to provide virtual courses in accessible formats for students with disabilities.
SB 1436 by Sen. Jeff Brandes, R-St. Petersburg. Requires the State Board of Education to adopt minimum technology standards that meet certain criteria; distinguishes an FTE standard for part-time and full-time students at the Florida Virtual School; requires that virtual instruction programs provide individualized courses in accessible formats to students who have disabilities; prohibits a school district from requiring a public school student to take a course outside the school day in addition to the student's courses for a given term; and allows students to enroll in online courses offered by other districts.
HB 7029 by Choice & Innovation Subcommittee and Rep. Manny Diaz, R-Hialeah. Creates a district innovation school pilot program that encourages schools to engage in a whole school transformation using blended learning models in exchange for exemption from certain statutes; allows districts and providers to offer part-time virtual instruction for K-12 students in all courses; allows students to enroll in online courses offered by any district in the state; requires the DOE to develop an online catalog of available digital learning courses; and provides reporting requirements for Florida Virtual School Global.
Parent Empowerment:
SB 862 by Sen. Kelli Stargel, R-Lakeland. Allows a parent who has a student in a public school that is implementing a turnaround option to petition to have a certain turnaround option implemented, and provides that a valid petition must have the signatures of a majority of the parents of eligible students in order to have the turnaround option selected by parents considered for implementation by the school district at a publicly noticed school board meeting. It also requires school districts to notify parents and inform them of their options if a student is being taught by an out-of-field teacher; provides that a student may not be assigned to an unsatisfactory teacher in a single subject for two consecutive school years; and requires the district to give a parent a teacher's performance evaluation upon request. (Identical to HB 867 by Rep. Carlos Trujillo, R-Doral.)
Private Schools:
SB 284 by Sen. Joe Negron, R-Palm City. Requires emergency response agencies to notify private schools in the school district under certain circumstances. (Identical to HB 369 by Rep. Mike LaRosa, R-St. Cloud.)
HB 859 by Rep. Travis Hutson, R-Palm Coast. Allows a student attending a public school that does not offer a particular extracurricular activity to participate in that activity at the closest public or private school or at a public school that the student could choose to attend under controlled open enrollment provisions. (Similar to SB 956 by Sen. Aaron Bean, R-Fernandina Beach.)
Tax Credit Scholarships:
HB 237 by Rep. Randolph Bracy, D-Orlando. Requires a private school participating in the program to report student assessment scores to the Department of Education, and requires the DOE to publish the scores on its website. (Identical to SB 776 by Sen. Geraldine Thompson, D-Orlando.)
SB 1400 by Sen. Bill Montford, D-Tallahassee. Requires a student who receives a Florida Tax Credit Scholarship to participate in all statewide assessment tests including the FCAT and any statewide, standardized, end-of-course assessments required for promotion from middle school and for high school graduation; requires the DOE to report student scores to the school, develop a fee structure for private schools to administer the assessments and to annually report on the learning gains of students in the program; requires the school district to make the scores available to the public; and requires students who enroll in a public school after participation in a school choice program to take a nationally norm-referenced assessment test for placement.
Other:
SB 192- Targeted Economic Development by Sen. John Legg, R-Lutz. Requires the Department of Economic Opportunity to create economic development STEM zones in counties with a state university classified as having very high research activity, and requires the STEM zone development agency to offer incentives to a school district, a charter school, or a private school to implement and fully use a curriculum in science, technology, engineering, and mathematics.  (Similar to HB 299 by Sen. James Grant, R-Tampa.)
HB 465- Exceptional Student Education by Rep. Jason Brodeur, R-Sanford. Provides requirements for meetings related to exceptional student education and related services; provides requirements for certain federal funds to be reimbursed to charter schools; requires school districts to provide ESE-related services to certain home education program students; requires school districts to adopt parental consent forms for use in actions in a student's IEP; and requires the collaboration of public and private instructional personnel to enhance the school district's responsibilities under the IDEA. (Similar to SB 1108 by Sen. Andy Gardiner, R-Orlando.)
SB 904-Education by Sen. Jeff Brandes, R-St. Petersburg. Referred to as the Florida Flexible Option Initiative, the bill requires that "Florida-accredited charter courses" and assessments be identified, approved, published, and shared for consideration annually.  It also authorizes a school district, Florida College System institution, or state university to contract with qualified contractors to administer and proctor statewide assessments and assessments associated with Florida-accredited charter courses. (Identical to HB 843 by Rep. Matt Gaetz, R-Fort Walton Beach.)
SB 968- School Curriculum by Sen. Jeff Brandes, R-St. Petersburg. Creates a pilot project, to be administered by the Department of Education in the district of its choice, for students to earn micro-credits for participating in certain activities. It would allow the district to determine, based on rules adopted by the DOE, the activities that will be accepted, as well as their micro-credit value and the micro-credits required to achieve a traditional credit hour.
SB 1232- Public Education by Sen. Garrett Richter, R-Naples. Cited as the "Public Education Innovation and Efficiency Act," it authorizes the State Board of Education to enter into a performance contract with a school district to provide certain statutory waivers to allow flexibility. It intends to reform public education and improve student achievement through developing public-private partnerships for increased student performance, expanding public school parental choice programs, expanding public school virtual education programs, and allowing greater flexibility in the use of tax revenue.
SB 1492- Education Savings Account Program by Sen. Joe Negron, R-Palm City. Creates a student account to pay for specified educational expenses at a private school, private virtual school, private tutoring program, or public or private postsecondary institution, or to contribute to a college savings plan or make payment for a prepaid college plan; provides eligibility requirements for students and educational institutions; provides obligations for financial institutions; and provides a formula for calculating the total amount of payments to a student's account. (Similar to HB 1251 by Rep. Michael Bileca, R-Miami.)