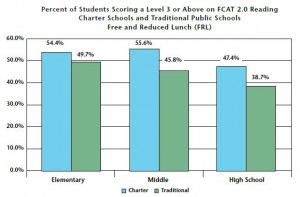 Florida charter school students are out-scoring and out-gaining their traditional public school counterparts in more than 150 comparisons on the state's standardized tests, according to a state-mandated report released by the Florida Department of Education Thursday.
In 156 of 177 comparisons, charter school students scored higher, made bigger gains and had smaller achievement gaps.
The department compared the two sectors by looking at students overall, and by comparing white, black, Hispanic, high-poverty and disabled students, as well as English language learners. It broke down results into elementary, middle and high school categories.
The state based its analysis on more than three million scores from last year's reading, math and science FCAT tests and Algebra I end-of-course exam. Only students who attended traditional public schools or charter schools for the entire year were included. The report did not break down results by district.
Charters did particularly well with low-income middle schoolers. In reading, 55.6 percent of FRL kids in charter middle schools scored at grade level or above, compared to 45.8 percent for their traditional school peers. In math, the corresponding percentages were 54.8 and 44.5.
DOE press release here. Initial coverage from Gradebook and South Florida Sun Sentinel.