Texas: Sen. Dan Patrick's school choice bill makes an ambitious attempt to expand charter schools, lifting the statewide cap on the number of charters and requiring school districts to sell or lease underutilized classrooms or other facilties to charter operators (The Texas Tribune). More on the bill,  including possible concessions by Patrick on the charter cap ( American-Statesman). Patrick cries in committee as he advocates expansion of school choice (Associated Press).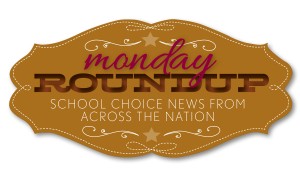 Louisiana: A $5 million federal training program offers $50,000 grants to teachers to help turn around failing schools. The program will serve either as a stop-gap while more charter schools ramp up to provide students with better learning options, or as an alternative approach to fix a failing system with the selected district schools operating similar to charters (Education News). A mother's struggle to find a quality school for her sons points to a key failure in New Orleans' lauded choice-based system: options abound, but they're not always reputable ones (The Lens).
Arkansas: A Senate committee votes down a proposal for a tax credit scholarship program (Associated Press).
Florida: A parent trigger bill clears a third House committee and heads for a House floor vote (redefinED). Charter school lobbyists focus this legislative session on winning state money for maintenance and facilities, or, the right to use empty space in traditional public schools free of charge (Tampa Bay Times).
Tennessee: A voucher bill forwarded as a broader alternative to Gov. Bill Haslam's proposal is withdrawn (Associated Press). But the debate continues over how many children the program should serve (Memphis Commercial Appeal). Pressed with the need for charter operators in his district, one state lawmaker is considering a proposal to allow for-profit charters; Rep. John DeBerry says the idea is to help well-meaning operators with the business-side of running charter schools (The Tennessean). The Walton Family Foundation is investing $1 million to help create four new charter schools in Memphis (Memphis Business Journal).
Georgia: A parent trigger bill is pulled amidst concerns from Republican lawmakers (Atlanta Journal Constitution). Proposed legislation could force school districts to consider parent petitions to turn non-failing public schools into charters (Atlanta Journal-Constitution). A proposal to expand the state's tax credit scholarship program clears a key House committee (Atlanta Journal Constitution).
North Carolina: Charter school and tax credit scholarship legislation is expected to be at issue in the Legislature again this year (High Point Enterprise).
Mississippi: Republican Lt. Gov. Tate Reeves meets with Democratic lawmakers in an effort to sway them on charter school legislation (Jackson Clarion-Ledger).
Washington, D.C.: The D.C. Fiscal Policy Institute releases a study that shows charter schools are slightly outperforming traditional schools in reading and math proficiency (The Washington Post). At one D.C. charter school, it's statistically easier to get into Harvard (WJLA.com)
California: The Oakland school board narrowly votes to shutter three highly regarded American Indian charter schools (San Francisco Chronicle). The Los Angeles school district is working to allow students to enroll in magnet schools at any point during the year, instead of only at the beginning of the year (Los Angeles Times).
Idaho: The House votes narrowly in favor of legislation to create a tax-credit scholarship program (Associated Press). Lawmakers consider a proposal to bar non-profit corporations from operating charter schools (Idaho State Journal).
Pennsylvania: Two charter school organizations dispute a state lawmaker's report that outlines fraud and mismanagement in the schools, calling the findings unfair and, in some cases, outdated (The Philadelphia Inquirer).
New Jersey: Varsity high school athletes who transfer to a school choice school without a bonafide change of residence must sit out the first 30 days of the season in 2013-14, the Department of Education ruled. The change was prompted by concerns about illegal recruiting of student athletes (The Star-Ledger).
Indiana: Hundreds of parents and teachers rallied the Statehouse in opposition to the expansion of the state's voucher program, calling for more support for public district schools (Evansville Courier & Press). Lawmakers hear hours of testimony about the expansion (Evansville Courier & Press). Some state senators push for more study of the program before considering an expansion (Associated Press). The KIPP and Rocketship charter school networks will each receive $1 million from the Mind Trust, a local nonprofit, to open 12 new charter schools in Indianapolis by 2020 (Indianapolis Star).
Wisconsin: A new poll shows 52 percent of residents want the voucher program expanded either statewide, or at least to larger districts which have some underperforming public schools; 42 percent said the program should not expand – or should be scrapped altogether (Associated Press). Public school districts line up against voucher expansion (Associated Press). So does state Schools Superintendent Tony Evers (Milwaukee Journal Sentinel).
Ohio: Bluffton School Superintendent Greg Denecker speaks out against vouchers, saying "We do not believe it is right to have public dollars going to private schools." The effort is part of a statewide attempt to pass resolutions that block the expansion of vouchers (Lima News).
Nebraska: A bill that would have created the state's first charter schools as alternatives to failing public schools dies following a unanimous vote by the Legislature's Education Committee (Omaha World-Herald).