Texas: The State Board of Education votes to urge lawmakers to reject school vouchers – or any other mechanisms that reduce funding to public schools (Texas Tribune). Orthodox Jews, Catholics and leaders of other religious groups joined forces with private school advocates to rally for tax credit scholarships(The Yeshiva World News).
California: L.A. mayoral candidate Wendy Greuel, who wants to be the "education-reform mayor," supports parent trigger and other reform measures (Los Angeles Times). More from the Huffington Post.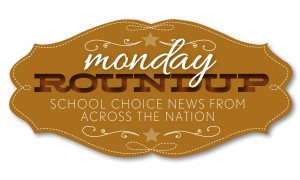 Colorado: The Senate approves a bill that adds $1 million for charter school construction (Associated Press).
Washington, D.C.: Former students and faculty of Sidwell Friends, the elite private school that has educated children of presidents and members of Congress, want to open a charter school – and have Sidwell's support (The Washington Post). A report by the Walton Family Foundation shows the District's charter schools received about $13,000 less in per-student funding in 2011-12 than traditional public schools (Washington Examiner).
Pennsylvania: Philadelphia is the latest city to rally for school choice with more than 200 parents, educators and other charter supporters demanding district officials allow the expansion of at least 20 charter schools (NewsWorks). Also, the city's Mayor Michael Nutter asks the governor to approve more funding  for city schools, including reimbursing districts for dollars spent on charter schools (NewsWorks).
Florida: Facing a tuition crisis, Jewish day school educators and religious leaders lobby Tallahassee for expanded school choice (Lubavitch.com). Lawmakers are trying to give district schools some of the same flexibility as charters, but still within union agreements (redefinED). This charter school almost didn't happen – and now it's one of the leading science schools in the state (redefinED).
Louisiana: New Orleans school officials consider an enrollment plan that, eventually, will allow some charters to hold seats for students who fit the school's mission – like a military academy. Opponents worry it will lead to cherry-picking high-achievers (The Lens). State Rep. Katrina Jackson has proposed a bill to allow public school students to recite the Lord's Prayer and Pledge of Allegiance (KATC). Former Secretary of State Condoleezza Rice touts Gov. Bobby Jindal's efforts to reform Louisiana's schools (The Times-Picayune).
Wisconsin: Voucher supporters have spent nearly $10 million in 10 years trying to influence elections, according to the Wisconsin Democracy Campaign, yet the program has not proven to be more effective than public schools (Superior Telegram). More from the Associated Press. A new state report finds voucher expansion could cost nine district schools more than $1 million each in state aid (The Daily Cardinal).
North Carolina: House leaders file a school voucher bill that would provide qualifying families up to $4,200 a year toward private school tuition (News & Observer).
Tennessee: House leaders approve a bill that caps enrollment in virtual education for new online schools at 1,500 with the option to expand only if they meet performance requirements (Associated Press). Former Memphis Mayor Willie Herenton gets the official OK to open nine charter schools (WREG). The legislative session ends without the passage of a charter school bill that would have let the state education board sign off on charter applications denied by local school boards (The Commercial Appeal). Meanwhile, the House approves a similar measure (Associated Press). A bill passes that would allow for-profit charter operators to operate public charter schools with taxpayer funds (The Commercial Appeal).
Arkansas: Gov. Mike Beebe signs a bill that allows student transfers from one district to another as long as they don't violate a court desegregation order, replacing a law that a federal judge tossed out last year (Kait8.com).
Massachusetts: A school committee is set to vote on a proposal to start a new state-authorized virtual school, which would succeed the department's three-year virtual innovation school (The Recorder).
Mississippi: Gov. Phil Bryant signs an education reform package that allows up to 15 charter schools a year to start in low-performing districts, without local school board approval (Clarion Ledger).
New Jersey: About 850 educators and board members representing more than 60 of the state's 86 charter schools attended the New Jersey charter school association conference – the largest turnout yet (NJ Spotlight).
New Hampshire: Charter school advocates start an online petition for more charter schools, and an increase in funding (The Telegraph). The Senate rejects attempt to repeal tax credit program, citing the need to increase school choice (Foster's Daily Democrat).
Kansas: Senate President Susan Wagle plans to move forward with charter school expansion once the Supreme Court rules on a school finance lawsuit (The Wichita Eagle).
Michigan: A new report by the Education Trust-Midwest says the state's lackluster educational performance is due,  part, to its reliance on charter schools to improve student performance – and that's not working (Michigan Radio). A secret education reform work group has been devising a "value school" model that costs $5,000 per child annual to operate (The Detroit News). More on the education reform group from Gov. Rick Snyder (The Detroit News).
Indiana: Legislators are still fine-tuning details to expand state's school voucher plan (Fox 59). More from the Associated Press and the Journal Gazette.
Ohio: A school funding proposal could significantly boost state dollars for charter schools (The Plain Dealer).
Illinois: The House passes a measure that would put a year-long moratorium on establishing charter schools with a virtual school component (Kane County Chronicle).
New York: Angry parents and teachers say the Department of Education spent more money on repairing a Brooklyn charter school than it did on three traditional public schools in the same city-owned building (Daily News).