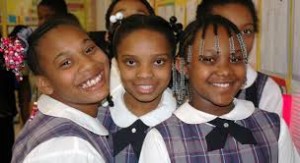 As the fight to restore the ability of families to choose the school that best meets their children's needs proceeds across the country, the future of urban faith-based schools that have served communities for decades remains in serious doubt. Often these schools have been the only choice available to families in tough neighborhoods, but because of changing economics and demographics they have been closing at alarming rates for decades. U.S. Supreme Court Justice Sonia Sotomayor described them "as a road of opportunity for kids with no other alternative."
Unless this downward trend is reversed, the battle for parental choice may eventually be won, only to find the actual choices available have been substantially and possibly irreversibly diminished. On June 6 in Austin, Texas the national Commission on Faith-based Schools of the American Center for School Choice will host its first conference, "Religious Schools in America: A Proud History and Perilous Future," to bring together an ecumenical group of leaders interested in preserving faith-based schools, as well as policymakers and media.
At the conference, the commission will release a report on its view of the state of faith-based schools in the U.S., the important role they continue to have in American education, and how they can serve all families that wish to choose them in the future. It will unveil a new web site that will have state-by-state data on faith-based schools and the students they serve. And most important, the commission will lead attendees as they strategize and plan on how to build on recent promising progress in several states and the courts to create momentum for sustaining and growing these schools.
Conference sessions will be highly interactive and encourage dialogue among all attendees. They will discuss progress on tax credit scholarship and voucher programs, and in the courts, and what actions made that possible. The intent is to help attendees understand in more depth how these programs work to benefit schools, as well as how they can be enacted and expanded in their communities.
This is a unique opportunity to build support for these schools on a broad interfaith basis.
Indeed, the commission believes a national effort to expand public understanding and appreciation of the role of faith-based schools in American education, especially in low-income communities, is critical if the schools are to be recognized as important assets that must be preserved because they contribute significantly to the public good. Assuming that is true, families should be empowered to choose them just as they choose any other school for their children.
The commission is purposely keeping the conference as affordable as possible. If you register by May 23, the fee is only $75. A block of hotel rooms at the Hilton DoubleTree Suites Hotel in Austin is available at the discount rate of $179 per night through May 15. It all begins with a reception the evening of June 5, so plan to come early. Please visit the American Center's web site to register and make your hotel reservation.