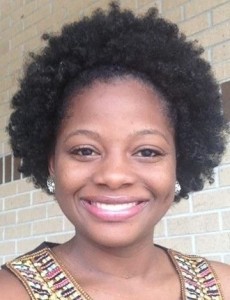 Former Step Up For Students scholarship student Denisha Merriweather, now attending the University of West Florida, received a standing ovation last night after speaking at the American Federation for Children school choice summit in Washington D.C. Here is the text of her prepared remarks. (Full disclosure: Step Up co-hosts this blog.)
Good evening! Thank you, Mr. Chavous, for your kind introduction.
My name is Denisha Merriweather, and I just finished my junior year at the University of West Florida in Pensacola right near the tip of Florida's Panhandle. I am so proud to stand here before you today knowing that this time next year, I will be graduating college.
The truth is, when I was growing up, college was a dream that I didn't even know I had. And if it weren't for an educational option Florida gave me nine years ago, I wouldn't be here today.
If you were to rewind my life back to my childhood, you would see someone very different. You would see someone who got in fights with her classmates. Someone destined to drop out before she made it through high school. Someone who didn't even know what college was.
But thankfully, I did not become a statistic. Because of some help I received when I was 12 years old, my life has changed tremendously.
Growing up, I was not a student who picked up ideas and concepts quickly in class. School didn't come easily to me and I struggled to keep up. When I was in elementary school in Jacksonville, Fla., my mother and I were moving around town constantly. That meant I kept changing schools, and I had a hard time re-adjusting to a new school, new teachers and new students every time we moved. Because we moved so much, I also missed several days of school, and when I got back into the classroom, it was hard to catch up.
Needless to say, my grades were bad, and I didn't understand most of my schoolwork.
I got picked on by other kids because I was doing so poorly in school. And I kept getting into fights.
Maybe the easiest way to tell you how bad things were in elementary school is tell you what happened in third grade. I failed third grade. Not once, but twice. I went to two other schools and participated in a program designed to help students who were behind to get back to grade level. While my teachers really tried to boost my confidence and get me back on track, it just didn't work for me.
Not long after that, I started living with my godmother and my life began to turn in an entirely different direction.
One of the first things she wanted to change was my school.
She heard through our church about a private school in Jacksonville called Esprit de Corps Center for Learning, and liked what she heard. But she had no way to pay for it. Thankfully, she heard about a scholarship that was offered through a nonprofit I now know as Step Up For Students, and the state program, the Florida Tax Credit Scholarship.
Let me tell you. That was just the change I needed.
Before I even set foot on my new school's campus, I met my teacher. In fact, the summer before I started attending Esprit de Corps, she worked with me to get me up to speed on the things I had missed at my other school. I would go to her house almost every day over the summer to work on my multiplication tables and go over other subjects that I hadn't grasped. It was so nice to have a teacher who truly cared.
The following August, I began the sixth grade at Esprit de Corps, and for the first time in my life, adjusting to a new school was a very positive experience for me!
The classes were very small – I had just eight other students in my sixth grade class. It really helped me because my teacher was able to go around to each of us and help us with any questions we had.
As the years at Esprit de Corps went on, my grades improved. I began to earn A's and B's consistently, and proudly made the honor roll.  I also grew very close to my classmates and it began to feel like a family. I bonded with much younger students and by the time I was a senior, they looked up to me.
I can say to all of you here, Esprit de Corps truly changed my life.
The school gave me a new perspective, and helped me prepare for my future. They helped me pay for the SAT, ACT and college applications, and pushed me to expect more from myself. The motto at Esprit de Corps Center for Learning is this: "Learning is a joy, excellence is the norm and superiority is our goal."
And I think about that every day.
If I hadn't had the opportunity to attend Esprit de Corps, I don't think I would have ever learned what my potential is. No one in my family ever went to college, and the mindset was that if school gets too hard, you just quit. But since Esprit de Corps expects excellence, I rose to the challenge.
At the University of West Florida, I am studying interdisciplinary social sciences, and hope to one day be a social worker for children.
I'm also very involved on campus with the African American Student Association, the W.E.B. DuBois Honor Society, and Dance Marathon, which raises money for Children's Miracle Network.
Now, I am just one year away from graduating college and sometimes I can't believe I've made it this far.
But I want you all to know that I'm not stopping here. I plan to go to graduate school and one day earn my doctorate. So many doors have been opened for me, and I feel that I have to keep achieving.
Thanks to the work you are doing, I'm a college student and not a high school dropout. Thanks to Step Up and the organizations that are represented here today, there are hundreds of thousands of students across the nation whose lives are being changed for the better.
Just like mine was.
So I'd like to say thank you for giving my generation new options in school, new ways to achieve success and fulfill our potential.
Please continue the great work you're doing. Please don't stop until each and every child in America has access to the education that he or she may need at each stage of the learning process.
I have seen the power of a tailored education demonstrated in my own life, and I'd love to see it carried throughout future generations.
It is truly an honor to share my story with you all today. And I want to thank you for the opportunity you have given me, and promise you I will make the most of it.
Thank you, and enjoy your dinner!