Florida: Parent trigger fails again in the Senate with a 20-20 vote (Orlando Sentinel). Insiders say Gov. Rick Scott influenced some legislators to vote down the parent trigger bill (Sunshine State News). More from The Buzz. Florida Virtual School leaders say a funding shift that takes affect this summer already is having a negative impact on the program (redefinED). U.S. Sen. Marco Rubio visits Tampa and shares his plan for federal tax credit scholarships (redefinED). As private school enrollment declines, some operators are going charter (redefinED).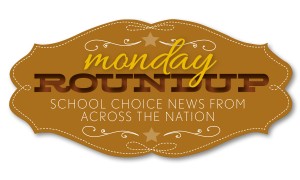 Louisiana: The state's voucher program will grow by at least 3,000 more students next school year, bringing the total enrollment to nearly 8,000 (The Times-Picayune).
Connecticut: Gov. Dannel Malloy leads a rally of about 150 students, parents and teachers to protect education budget cuts (The Day). A House bill allows low-performing school districts with charter schools to count their test scores in exchange for support (The CT Mirror).
Washington, D.C.: About 22,000 students are on a wait list for public charter schools (Washington Examiner). Charter advocates ask district officials for uniform per-student funding (The Washington Post).
Arizona: The state is one of the nation's leaders for school choice, ranking sixth in a report by the Center for Education Reform (The Arizona Republic).
Texas: The House approved a measure that will allow 10 new charter school operators in two years, with 10 additional charters each year up to a maximum of 275 (The Dallas Morning News).
Illinois: Construction stopped on the new state-funded charter high school operated by United Neighborhood Organization because it fell behind on payments (Chicago Sun-Times).
Michigan: Detroit's Cornerstone Charter Schools and Education Achievement Authority are showing great success with their blended-learning model (Education Week).
Pennsylvania: The York City School District is looking at a plan that includes district schools converting into charter schools (York Daily Record).
Washington: Spokane Public Schools joins 12 other districts in pursuit of charter schools (The Spokesman-Review).
Kentucky: A school choice bill that would have let low-performing district schools convert into charters passes the Senate, but dies in the House (Heartland).
California: Parents are fighting to keep open the American Indian Model Schools in Oakland despite accusations of financial mismanagement (KQED).
Maine: Former Sen. Ember Reichgott Junge, the Democratic Minnesota lawmaker who sponsored the nation's first successful charter school law, helps kick off National Charter School Week (Associated Press). Lawmakers consider changing the way charter schools are funded by the state (Maine Sunday Telegram).
New Hampshire: Charter school funding is threatened as Senate leaders begin final budget negotiations (Associated  Press).
Tennessee: Charter schools are attracting more students  in Memphis (WREG).
Wisconsin: While enrollment has fallen statewide by 17%,  private schools around Milwaukee have seen their numbers rise due  to vouchers (Journal Sentinel). Madison County education leaders are  opposed to expanding vouchers to their district (Madison Commons). U.S. Dept. of Justice tells state education officials to do a better job ensuring private voucher schools enroll children with disabilities (Journal Sentinel).