Former state Rep. Trey Traviesa says Florida is a national leader when it comes to its support for charter schools.
And the 2013 legislative session offered plenty of examples – from extra facility dollars to legislative language that included charters in teacher pay raises and school safety funds, to revamping charter applications and contracts to make them more uniform from district to district.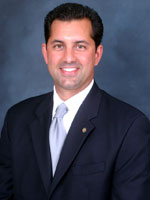 But there's plenty more work to do, Traviesa said today during an online town hall meeting organized by the Florida Alliance for Charter Schools.
"Funding needs to be stronger,'' he said. "Policy can be better.''
With those two objectives in mind, the alliance and its band of former legislators-turned-lobbyists already are setting the stage for next year's charter school agenda. The group plans to meet with operators, parents and other supporters across the state within the next few months.
In Florida, there are 203,000 children attending 579 charter schools. One of the biggest issues for the charter industry has been getting organized and developing a unified mission, alliance leaders said.
"We as a movement have to be able to stick together as one voice,'' said Ralph Arza, another former state representative who now lobbies for the two-year-old Fort Lauderdale-based nonprofit. "That is the importance of our advocacy, to make sure that charters are front and center … and treated equally on the funding side and the policy side.''
That "Herculean effort'' really came together this year, said Arza, noting that the benefits for charter schools this legislative session were beyond the allinace's expectations.
Among the highlights:
Lawmakers earmarked $91 million for charter school facilities construction and maintenance costs
Charter school instructors are included in the $480 million allotment for public school pay raises
The nontraditional schools also will receive a portion of the $64 million approved for school safety, which includes suicide prevention and after-school programs.
Charter schools also will get more leeway in submitting applications before the Aug. 1 state deadline, and have a quicker turnaround in the district review process – from 60 days to 30 days. Other changes include requiring districts to report to the state annually the number of charter applications they receive, and how many they accept or deny.
"We just wanted to make sure things are moving along quickly and as close to the timeline as possible,'' said Mike Kooi, executive director of Florida's school choice office.
The session brought "a lot of victories for charter schools in terms of polices and funding,'' Kooi said. "And, hopefully, it will continue.''