Florida's school choice czar is leaving to help guide education policy in Georgia.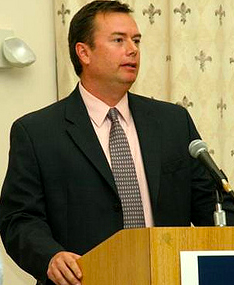 Mike Kooi, who is executive director of the state Department of Education's Office of Independent Education and Parental Choice, has overseen for the past five years what is arguably the largest educational choice offering in the nation.
In his new role, he will serve as Division Director For Education in the governor's Office of Planning and Budget and, in effect, as a direct education policy adviser to Georgia Gov. Nathan Deal – a governor who has shown interest in expanding options himself.
The departure was announced at the Florida Board of Education meeting in Tampa today, and Education Commissioner Tony Bennett was quick to note Kooi's role in the growth of choice options. "Mike has done marvelous work here in Florida as Florida has become a leader in choice,'' Bennett said.
During Kooi's tenure, he oversaw the growth of charter schools with student enrollment nearly doubling from 117,040 in 2008 to 203,199 today. In a report released earlier this year, DOE determined that 1.5 million PreK-12 students in 2011-12 attended something other than their assigned neighborhood school. That's roughly 43 percent of all students.
"It's an opportunity to work on a wider array of educational policy," Kooi said, "and to hopefully provide some experience and guidance in terms of education reform policies that we have gone through are going through in Florida. Georgia is a unique state, but they are also doing some of the thing we are doing."
Before moving to the Department of Education, Kooi was a longtime school choice advocate and former executive director for the Florida Consortium of Public Charter Schools. He also worked for the Florida House of Representatives as staff director and policy chief for the Schools and Learning Council.
A Department of Education biography described Kooi as being instrumental in legislative policy. He previously served as a former commercial litigator in Jacksonville, as assistant general counsel with the education department and the Florida Department of Business and Professional Regulation.
"Mike has served the department incredibly well,'' Bennett said, "and he has served the state of Florida very, very well for many years.''