The National Council on Teacher Quality released its first Teacher Prep Review today, and the findings show only a handful of colleges and universities adequately train aspiring teachers.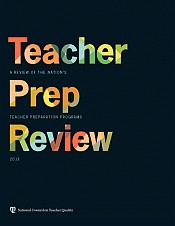 Which means many of the programs are leaving new teachers ill-equipped to keep up with the growing rigor of public instruction – and that's bad news for a country about to raise the bar on education benchmarks with the adoption of the Common Core State Standards.
"The problem is worse than we thought,'' said Brian Kelly, editor and chief content officer of U.S. News & World Report, which published the study. "The data show that the academic caliber of many incoming students is quite low, and what they are taught often has little relevance to what they need to succeed in the classroom.
"Very few schools meet even a minimum standard of quality when it comes to using the best practices for educating teachers,'' he said in a prepared statement.
If the goal is to help all teachers succeed, "we not only need to change what happens in the schools where they work, we must also address the preparation of the next generation of educators,'' said Kate Walsh, president of the national council. "New teachers deserve training that will enable them to walk into their own classroom on their first day ready to teach, but our review shows that we have a long way to go.''
The study looked at 1,130 institutions, including 32 in Florida. Among the findings:
19 percent of elementary programs nationwide provided strong preparation to teach elementary math similar to practices of higher-performing nations such as Singapore or South Korea. None of the elementary programs in Florida provided such training.
71 percent of elementary and secondary programs failed to ensure a high-quality student teaching experience, with students assigned only to highly-skilled teachers and receiving frequent feedback. In Florida, 23 percent of the programs failed in this area.
Nationally, 23 percent of evaluated programs earned a perfect four stars for providing feedback to teacher candidates on classroom management strategies. Florida saw 29 percent of the programs earning the designation.
11 percent of the nation's elementary programs earned three or four stars for providing adequate content preparation, compared to 3 percent in Florida. The results were better at the high school level, where 35 percent of the national secondary programs earned four stars for content preparation and 37 percent did so in Florida.
29 percent of evaluated elementary programs prepared teacher candidates in effective, scientifically-based reading instruction compared to 43 percent in Florida.
28 percent of national elementary and secondary programs restricted admissions to the top half of the college-going population. In Florida, it was 20 percent.
NCTQ issued a consumer alert for 112 elementary programs and 51 secondary programs nationwide, meaning those programs did not earn a single star. Five programs in Florida received a consumer alert.