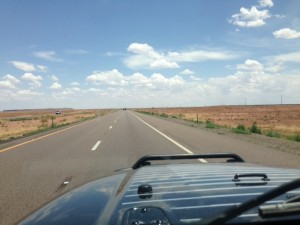 After 2,500 miles through high deserts, forested mountains, windswept prairies, and boggy woodlands – and 190 gallons of gas and one flat tire – I've reached my education destination. For the past five years in Nevada, I made a consistent pitch to my colleagues and lawmakers and the governor: "Copy Florida." Now I live here in Tampa.
Resident Floridians may not realize how well their state actually performs on the education front. You may not even recognize the similarities between Nevada and Florida.
Yes, Nevada and Florida have a very different geography and climate. For one thing, Nevada is the driest state in the U.S., and Florida will receive twice as much rain in July as Nevada gets in an entire year. Florida's tropical climate is thick with forests, swamps and beautiful beaches. Meanwhile, Nevada occupies the Great Basin and Mohave Desert; a dry desolate place known for prickly Joshua trees, barren mountains and temperatures that soar above 120 degrees.
The landscapes aside, Nevada and Florida share similar public education students and challenges. Both states have a student population that is majority minority today.  Student poverty rates and disability rates are also comparable, though Nevada has a larger English language learner population. Nevada and Florida also spend about the same amount per pupil. Interestingly, both states are vacation and retirement destinations with more tourists than residents.
Not surprisingly, education attainment rates were once very similar.
Data from the U.S. Department of Education's National Assessment of Educational Progress (NAEP) reading exam shows that Nevada and Florida had virtually indistinguishable achievement rates just 15 years ago. That has changed dramatically. While Nevada in the past few years has started to catch up with Florida on math, the Sunshine State has soared past the Silver State in reading. NAEP's 4th grade reading scores are also a good barometer for education success and graduation rates.
These reading achievement levels are also striking when we zero in on low-income students who are on free or reduced-price lunch (FRL). In the charts below, we compare Nevada and Florida's FRL students on the NAEP 4th grade reading exam. In this way we examine only the attainment for the most disadvantaged students in both states.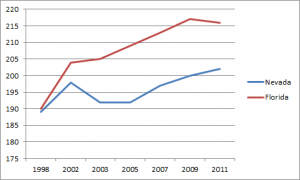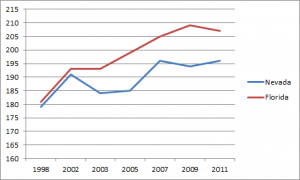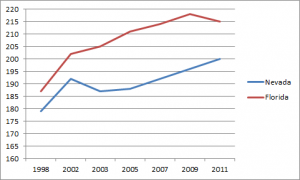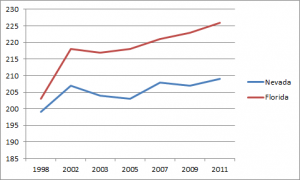 Today, the average low-income student in Florida, regardless of race, has more than a grade level reading advantage over his or her counterparts in Nevada. That is tremendous improvement and something in which Floridians can take pride.
I'm here to work with Step Up For Students, a nonprofit that provides learning options for low-income children, and I already can see a public education system that is rich with alternatives. Working together, reformers, educators, policy makers and parents can improve education quality for our students – regardless of whether that education is provided by a traditional public school, charter school or private school.
By the way, if you ever make your way over to the Silver State, remember to pronounce "Nevada" like "Nev-ADD-a." If you say "Nev-AHH-da" the locals will be unmerciful.