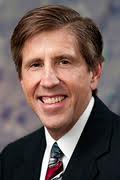 School choice in general is in the news a lot nowadays. And lately and more specifically, so is Florida's tax credit scholarship program for low-income students. Administered by Step Up For Students (which co-hosts this blog), it's the largest private school choice program in the country; it will serve about 60,000 students this fall; and as a number of stories in recent weeks have noted, including this one by the Tampa Bay Times/Miami Herald capital bureau, it continues to grow rapidly.
We know there are many questions about the program and its expansion, so we've asked Step Up President Doug Tuthill to do a live chat on the blog next week. He'll answer as many questions as possible over an hour or so.
Doug joined Step Up in 2008. Before then, he had been a college professor, a classroom teacher, the president of two teachers unions and a driving force behind the creation of Florida's first International Baccalaureate high school.
At redefinED, we strive not to be an echo chamber, so we're hoping we'll get questions from a wide range of folks, including (and maybe even especially from) people who are skeptical or critical of what we do. We also strive not to be a promotional vehicle for Step Up, but we thought the recent news coverage justified a spotlight. Quite frankly, we're also new to this live chat thing, and Doug is our guinea pig. 🙂
To participate in the chat, come back to the blog on Tuesday, Aug. 6. We'll start promptly at 10:30 a.m., so click in to the CoveritLive program a few minutes before then.
In the meantime, if you have questions for Doug that you'd like to send in advance, please email them to rmatus@sufs.org, tweet them to @redefinedonline or post them on our facebook page.