After seven years of decline, Florida private school enrollment ticked up modestly for a second year in a row last year.
Enrollment grew from 316,745 in 2011-12 to 320,423 in 2012-13, an increase of 1.2 percent, according to a report released last month by the Florida Department of Education.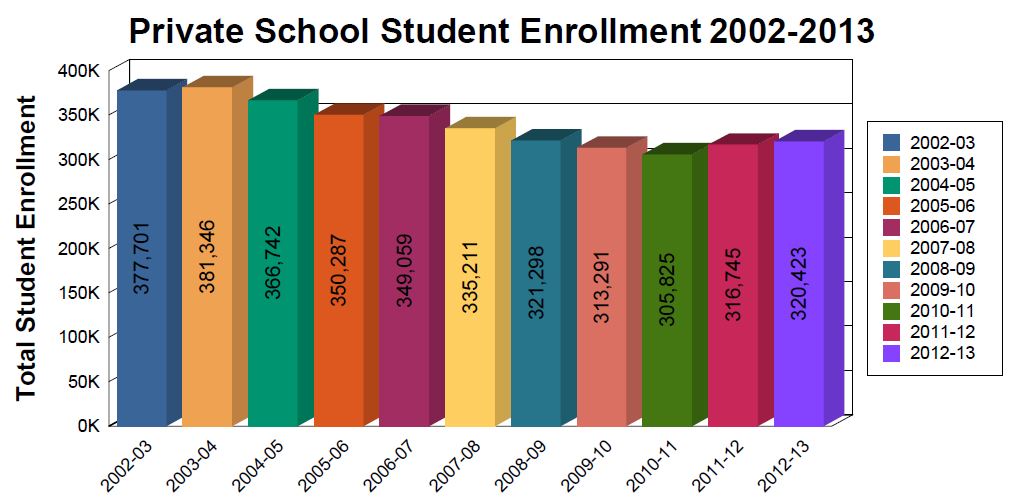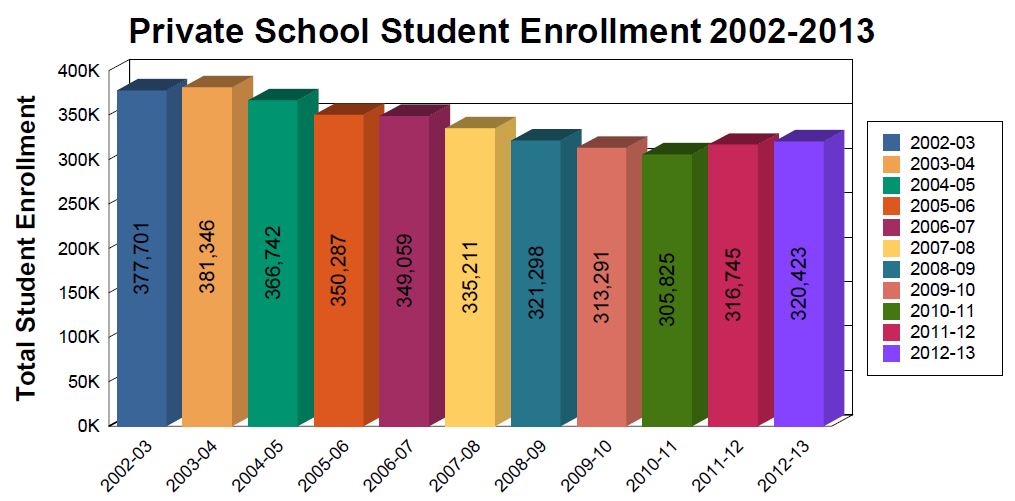 The latest numbers are still a far cry from a decade ago, when the state wasn't crawling out of the Great Recession and private school enrollment topped 380,000. But private school supporters see more than a short-term spike.
Private schools, too, have had to step up their game because of increased competition, said Howard Burke, executive director of the Florida Association of Christian Colleges and Schools. They've responded to the explosion in charter and magnet schools by beefing up technology, improving communication with parents and seeking multiple accreditations, he said.
He pointed to growth in pre-K and kindergarten enrollment in private schools as evidence that parents have responded in turn. Private schools made up 14.6 percent of all pre-K enrollment in 2012-13, up from 12.9 percent five years ago. In raw numbers, private school pre-K enrollment is up more than 5,000 over that span.
"The foundation is being rebuilt," Burke said.
It's clear from the latest enrollment numbers that publicly funded, private school choice options, particularly tax credit scholarships, are giving the private school sector a boost. They also suggest that many parents still prefer private schools despite massive growth in tuition-free charter schools.
The number of tax credit scholarships rose from 40,248 in 2011-12 to 51,075 last year. It's expected to climb to around 60,000 this fall. Available only to low-income students, the scholarship program is administered by Step Up For Students, which co-hosts this blog.
Over the same period, the number of charter school students jumped from 179,940 to 203,199.
The impact of charter schools on private school enrollment hasn't been studied in detail in Florida, but there is anecdotal evidence the former is chipping away at the latter. Just last month, St. Mark Catholic School in Palm Beach County announced it was closing after a wave of students transferred to other schools, including a new, nearby charter.
Michael Burroughs, executive director of the Florida League of Christian Schools, said for the most part, faith-based schools are holding their own. The league is based in Polk County, which has among the highest concentrations of charter school seats in the state. Yet "I got a Christian school on every corner, for Pete's sake," he said. "And they're running well."
Given that the vast majority of private schools are faith-based schools, Burroughs said there may be a bigger picture story behind the enrollment trend.
Such schools are important because "there's an element of connecting knowledge with faith, and when that disappears in a community, our voice disappears," he said. "When you see religious schools are growing, that speaks to the fact that maybe the church is making an impact again."
Among other notables in the enrollment report:
The number of private schools also climbed for a second year in a row, from 2,176 to 2,268 – a 4.2 percent increase.
Among the state's large urban districts, Duval had the greatest percentage of students in private schools, at 16.5, followed by Miami-Dade (15.5) and Pinellas (14.2).
Private schools employed 36,138 instructional and administrative personnel last year, with nearly 5,000 in pre-K. That's up from 34,924 in 2011-12.