Editor's note: This is a sidebar to Monday's profile post about Daniel and Suzette Dean, a Tampa, Fla. couple whose private school is at the heart of their community development vision.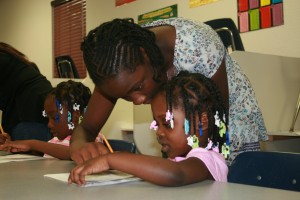 The big girl scooched the little one gently back to the center of the chair, then pointed to the work sheet on the table. Today's topic: kindergarten math. Can you count the elephants in the first clump, Lizzie, 12, asked Delilah, 3. Now in the second clump? Now can you add them? Beneath the rainbow of clasps in her braids, Delilah correctly counted the answers out loud.
"Good job. You got it," Lizzie smiled. "Do you know how to write a 10?"
Scenes like this play out all the time at Bible Truth Ministries Academy. The tiny private school in Tampa, Fla. often goes out of its way to put students of different ages together and frequently to have older kids teach younger ones. That kind of multi-age, multi-grade set-up isn't unheard of – it's a fundamental part of Montessori schools, for example – but in the case of Bible Truth, the origin of the idea is noteworthy.
A think tank called the Evolution Institute recommended it. Bible Truth followed up. And the fact that the entities have a warm relationship is a sign that bridge-building is possible even in that tense place where schools, faith and science collide.
"We get so caught up in the vessel. It doesn't matter to me" where good ideas come from, said Daniel Dean, who co-founded Bible Truth school with wife Suzette. "If it makes sense, it makes sense."
"It starts with, what do they want for the children and the families? – which is what I want," said Jerry Lieberman, who co-founded the institute and has known the Deans for seven years. "We both want them to have an excellent education, and we both want to remove obstacles that stand in their way."
The school doesn't teach evolution. Lieberman doesn't dwell on it.
But as its name suggests, the little institute with a board full of top-notch scientists is big on it. Its mission is to use evolutionary science to solve real-world problems. In education, that translates, in its view, into classroom practices that echo the way children have adapted to learn – in mixed-group settings, with lots of physical movement, with an emphasis on self-directed play.
The group's co-founder and president, David Sloan Wilson, an internationally respected evolutionary biologist, carved out "10 simple truths" about childhood education from an evolutionary perspective. A lot of it hinges on choice, community, cooperation. In the Binghamton, N.Y. school district a few years ago, the 10 points were converted into classroom practices and tested in a year-long program for at-risk 9th and 10th graders. The result: Students in the program outperformed their peers in a control group. They had less absenteeism, higher standardized test performance – and a 30-point jump in the scores behind school grades.
The institute is hoping to secure funding to test the program in other school districts, and in both public and private schools.
In the meantime, it's been working informally with Bible Truth.
On the surface, Daniel Dean and Lieberman are the odd couple. Dean is a preacher, a community activist from Jamaica, a chess fanatic who keeps a chess set in his truck. His ball cap says, "Jesus … the only way."
Lieberman is a former university professor and administrator, a former principal of an investment banking company. His accent is all Brooklyn. As former president of the Humanists of Florida, he supported the adoption of new state science standards in 2008 that, for the first time, including the teaching of evolution.
Nearly a decade ago, Lieberman's involvement with community development in a gritty stretch of Tampa called Suitcase City led him into the school choice realm. He helped create a charter school for low-income kids, the Carl Sagan Academy. And along the way, he met Daniel Dean, who served on the school's governing board.
The school did not survive. But a friendship blossomed. So did continued discussions about education and the best way to help kids learn.
Lieberman offered up ideas. Dean considered them. Things were tried.
"It wasn't me telling them they were doing anything wrong," Lieberman said. "I just said, 'You may want to look at this early childhood research we've done. You may or may not need it.' "
To be sure, the institute's recommendations are not being followed at Bible Truth in a systemic way, or being monitored for fidelity, or being assessed for impact. But the Deans say they're seeing good results.
Creating a more cooperative school atmosphere "really has helped," said Suzette Dean. "A lot of what (Jerry) said was true."
Having a short recess after lunch has kept kids from getting lethargic back at class, she said. Letting the pre-schoolers sit with young readers has more quickly acclimated them to letter sounds. The younger kids like the attention they get from the older kids. The older kids like more responsibility.
"If they're stuck on something, I can show them an easier way," Lizzie, the 12-year-old, said after her math session with Delilah. "It makes me feel good to help someone else."
The relationship between Bible Truth and the Evolution Institute continues to grow. A few weeks ago, the institute held a workshop at the school on creating a cooperative environment in low-income communities. An expert from England led the session. More than 50 people showed up, including other community leaders from Tampa, officials from several cities around Tampa Bay and a rep from a migrant workers association.
It's unclear where the partnership may head next. But where there's trust, who knows how things will evolve?