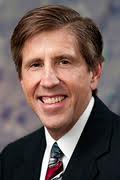 In today's chat, we talked with Doug Tuthill, president of Step Up For Students in Florida.
Readers asked him about everything from Common Core and private schools, to whether the value of tax credit scholarships should be increased, to the right balance between school choice and government regs when it comes to accountability.
Step Up is the largest private school choice program in the country. It's expected to serve 60,000 students this fall. And as recent news stories have pointed out, it continues to experience strong growth. (Step Up also co-hosts this blog with the American Center for School Choice. As we noted in the advance post, we strive not to be self-promotional but in this case thought it was appropriate to feature Doug.)
Before joining Step Up in 2008, Doug had been a college professor, a classroom teacher, the president of two teachers unions and a driving force behind the creation of Florida's first International Baccalaureate high school.
You can replay the chat here: