Fifty years ago next week, Dr. Martin Luther King Jr. delivered his "I Have A Dream" speech to 250,000 people in Washington D.C. It remains one of the greatest speeches in American history, offering a sweeping vision of hope and equal opportunity in the midst of so much fear and turbulence.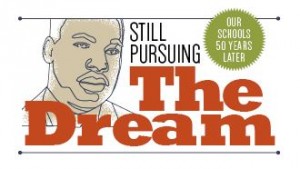 Many of us will reflect on how far we have come, and how far we have to go, since Dr. King energized millions with his words – and there's no doubt education will be part of those discussions. To that end, we're running a series of posts next week on the Dream and our schools.
We asked our bloggers to consider a scenario described by education leader Howard Fuller: On Feb. 1, 1960, four black students sit down at a lunch counter in Greensboro, N.C. and are denied service. They spark the lunch counter movement, helping to focus the nation's conscience on racial segregation. Now, four black students sit down at a lunch counter and they're welcomed like other diners. But they can't read the menu.
What do racial achievement gaps say about the state of Dr. King's dream? How does our current education system expand or contract his vision of social justice and equal opportunity? Is there reason to be hopeful when it comes to school choice, educational quality and the academic success of low-income and minority children? Please join us, beginning Monday, to read what some of our bloggers have to say. And please add your thoughts to the discussion.