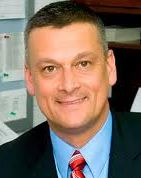 In mid-June, Florida Education Commissioner Tony Bennett visited a modest retreat on the outskirts of Tampa where a University of Notre Dame program was hosting a symposium on school choice. Fewer than 40 people were in attendance, but Bennett spoke and answered questions for an hour.
"I will never ever change my stripes on school choice," he told them. "If giving poor kids an opportunity cost me my job," he continued, referencing the fledgling voucher program and his electoral defeat in Indiana, that's a "pretty good trade off."
Even in a state that leads the nation in expanding school choice, Bennett was arguably the most pro-school-choice education commissioner Florida ever had. Choice supporters expressed shock and disappointment with Thursday's announcement that he was abruptly resigning after a two-day barrage of negative stories about grade changes at an Indiana charter school.
"This is a sad moment for Florida education," said Rep. Manny Diaz Jr., R-Miami, a member of three House education committees. Bennett was a "rock solid proponent for students, accountability and choice."
"It's unfortunate and I'm very saddened," said Florida Board of Education Chair Gary Chartrand, who was attending the KIPP conference in Las Vegas Thursday. "I told him, 'We think the world of you and we'll weather the storm together.' But he made the decision to leave. Obviously, the turnover is not a good situation."
Bennett's replacement will be the fourth education commissioner under Gov. Rick Scott, who pushed out highly regarded Eric J. Smith in favor of Gerard Robinson, who then resigned after high-profile glitches with the state's testing and grading system. A national search to replace Robinson drew no star-power candidates until Indiana voters put Bennett on the market.
"How much can we take?" said T. Willard Fair, a former Board of Education chair who co-founded the state's first charter school and resigned in 2011 to protest the ouster of Commissioner Smith. "We lost an outstanding commissioner in Eric Smith. We were blessed when Tony Bennett became available. To lose two great intellectuals is absolutely devastating."
The leadership churn has put smudges on Florida's reputation as a national leader in ed reform. It has also come as thorny questions about the growth of Florida's school choice sectors remain unresolved, including funding for charter schools and online learning.
The distractions will make it "harder to move forward on anything from charter schools to collective bargaining," said Sen. John Legg, R-Lutz, chair of the Senate Education Committee.
"We do need some stability," said Chartrand.
Diaz said he wondered "if we wouldn't better off with an elected commissioner."
At the same time, they and other choice supporters said they didn't think the distractions would hinder the school choice movement for long. The Board of Education and a majority of lawmakers are still strongly in that camp. And the choice sectors themselves continue to become increasingly organized.
"The movement is strong and the results speak for themselves," said Jim Horne, lobbyist and spokesman for the Florida Charter Schools Alliance and a former education commissioner himself. "It won't deter us."
"I'm more concerned that, once again, a highly-respected official is having to give up his post," said Fair, a former Board of Education chair who resigned in 2011 to protest the ouster of Commissioner Smith. "We'll stay the course. But (with Bennett) we had a great opportunity to make unheard of changes."
Florida's recent string of appointed commissioners have all been backers of school choice, but none of them were as willing to use the bully pulpit as Bennett.
In January, just weeks after starting his new gig, Bennett participated in a National School Choice Week panel discussion in Tampa, where he praised school districts for promoting public choice options like magnets and career academies. In April, he spoke at rally in Tallahassee that for the first time brought together school choice supporters from virtually every sector, public and private. He told 1,000 people on the steps of the Capitol that in a country founded on freedom, it amazed him that some would oppose the freedom of parents to choose schools.
Bennett's advocacy for options extended beyond public events. In June, for example, he met for several hours with Catholic school superintendents. He also nudged the Department of Education into finding solutions for a logistical snag involving private school students and public school end-of-course exams.
Bennett "stood up for all school children in Florida," said James Herzog, associate director for education at the Florida Catholic Conference. "He sought to bridge the public and private divide."
Horne, the former commissioner, said Bennett may have been poised to be the state's best commissioner ever. "Unfortunately," he said, "this storm of media attention has put him in this position where he was really concerned about becoming a distraction."
Editor's note: Step Up For Students, which co-hosts this blog, participated in the Notre Dame symposium. RedefinED staffers Sherri Ackerman, Patrick Gibbons and Ron Matus contributed to this report.
Correction on Aug. 16: The symposium cited in the first paragraph was organized by the Program for K-12 Educational Access at Notre Dame, not the Notre Dame ACE Academies as was originally written. This version of the story has been changed to reflect the accurate information.