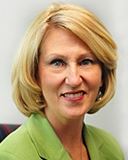 Florida has a new education commissioner: Pam Stewart, a career educator widely viewed as capable and accomplished but not a crusader.
The state Board of Education voted 7-0 Tuesday to hire Stewart to replace Tony Bennett, the nationally known former commissioner who resigned abruptly last month after media reports suggested he rigged school grades in Indiana to benefit a politically connected charter school.
For a full decade, Florida education leaders flexed their ed reform muscles when it came to landing commissioners, choosing either big names or politically potent ones or both. But with Stewart, they opted for a more low-key leader – one they hope will offer a steady hand during a turbulent time.
"We're at a pivotal time in Florida education, and so we're going to look to you to work diligently to lead us through," said BOE Chairman Gary Chartrand.
"I'm cognizant of the times that we're in and the critical nature of the work that we're doing," Stewart said immediately after the vote. "We've got to get it right. I am committed to getting that right."
Stewart, who was appointed interim after Bennett's departure, is the fourth permanent commissioner under first-term Republican Gov. Rick Scott. She is arguably the least polarizing schools chief since Florida went to appointed commissioners in 2003; the one with the deepest ties to what reformers sometimes call the "education establishment"; and the one with the least direct connections to former Gov. Jeb Bush. In Florida, commissioners are technically appointed by the BOE but none have been hired without the blessing of the sitting governor.
Unlike with the last three commissioners, the board opted Tuesday not to do a national search. The past two searches yielded fields that many education observers considered weak, and a third sub-par pool would have put a deeper stain on Florida's ed reform rep. Over the past 15 years, Florida students have netted some of the sharpest gains in the country with NAEP scores, AP results and grad rates. But in recent years, their often-overlooked rise has been further overshadowed by high turnover in the commissioner's office and highly publicized problems with the state's accountability system.
"This is a critical year. We've had our changes and some people might want to call it turmoil," said board member Barbara Feingold. "I think you can get us with stability and with clarity to the right place."
Stewart faces serious challenges.
The state decided in 2010 to pursue Common Core State Standards, and implementation is underway. But the standards are under fire from the political fringe, and there are big questions marks about whatever future tests will be aligned to them. Meanwhile, the state's new teacher evaluation system is complex and contentious. Its school grading system is in need of an upgrade. And the rapid expansion of charter schools, tax credit scholarships and other school choice options continues to create tensions between parents, providers, school districts and state lawmakers.
The politics, too, seem increasingly tangled. Earlier board discussions Tuesday suggested a widening rift between members strongly allied to Bush and more recent members appointed by Scott.
Kathleen Shanahan, a former Bush chief of staff, criticized Scott for not attending a three-day education summit he convened last month. She also referred to rumors the governor's office was preparing an executive order with directives stemming from recommendations that emerged there.
"I want to make sure from Pam that she understands, with full clarity, who she reports to," Shanahan said as the board briefly discussed Stewart's nomination.
"We serve many masters," Stewart responded, "but ultimately the board is the boss of the commissioner of education."
Shanahan also said she wanted to make sure Stewart would be paid the same as Bennett, who earned $275,000 a year. Stewart was making $199,650 as interim.
Bennett, who consistently denied wrongdoing with the situation in Indiana, said he resigned to spare the state a major distraction. An independent investigation commissioned by the Indiana Legislature later concluded the grading adjustments made by he and his team were "plausible" and "consistently applied to other schools with similar circumstances."
Stewart, 60, began her career in the 1970s as a teacher in Hillsborough County. She spent 25 years in Marion County, rising from teacher and guidance counselor to assistant principal and principal, before joining the Florida Department of Education as a deputy chancellor in 2004. In 2009, she became deputy superintendent in the St. Johns school district, then returned to DOE in 2011 as chancellor of public schools. She served two stints as interim commissioner.
Other coverage: South Florida Sun Sentinel, Gradebook, Sunshine State News, StateImpact Florida, Tallahassee Democrat, Associated Press, Education Week.