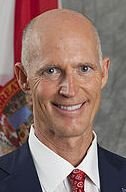 Common Core is okay. But the new, multi-state tests aligned to them may have to go.
So suggests Florida Gov. Rick Scott in documents set for release today.
In a draft executive order, Scott says "Floridians will not accept Federal government intrusion into the academic standards that are taught to our students." The order then says the tests being put together by the Partnership for Assessment of Readiness for College and Careers, better known as PARCC, "do not meet the needs of our students or the expectations of state leaders" in terms of cost, test length and testing requirements – and constitute "excessive involvement by the United States Department of Education." It says the state education commissioner shall recommend to the state Board of Education that the board terminate Florida's role as the fiscal agent for PARCC and establish a competitive bidding process for new tests.
In a draft letter to U.S. Education Secretary Arne Duncan, Scott also criticizes PARCC, saying it "has become a primary entry point for the involvement of the federal government" in many state and local education decisions.
But the letter also notes the state BOE adopted Common Core standards in 2010 after a process that began under former Gov. Jeb Bush and continued under former House Speaker Marco Rubio.
"This process resulted in the highest academic standards that could move our students and teachers away from 'teaching to the test' and toward a more independent, analytical approach to reading, writing and math," the letter says.
Here is a copy of the letter to Duncan. Here is a copy of the executive order. And here is a letter to BOE Chair Gary Chartrand.
Statement from Patricia Levesque at Foundation for Florida's Future here. Statements from six of seven BOE members here.
Other coverage: Tampa Bay Times, Tampa Bay Times (editorial), Education Week, Sunshine State News, South Florida Sun Sentinel, Palm Beach Post, Orlando Sentinel, Associated Press, Pensacola News Journal, Gradebook, The Buzz, StateImpact Florida, Daytona Beach News Journal, Fort Myers News Press, Sarasota Herald Tribune, John Romano, The Answer Sheet, Florida Current, NPR, Bridge to Tomorrow, Wall Street Journal.