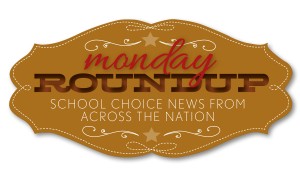 Alabama: State Democrats want to de-fund the new tax-credit scholarship program and use the money to fund the Alabama Math, Science and Technology Initiative (The Anniston Star). The new scholarship program provides a little bit of choice but it is limited by the scholarship cap of $3,500 per student (Troy Messenger).
Connecticut: Although this doesn't measure the impact, new state data shows open enrollment students in Hartford outperform students who remain in city schools (The Courant).
Florida: Waste Management donates $4.5 million to StepUp For Students – the scholarship organization that runs Florida's education scholarship tax-credit program – at a Marlins baseball game (PRWeb). Florida's aging population means resources will flow into pensions and healthcare for retirees. That means education needs to be more effective in both cost and student achievement (The Edfly Blog).
Louisiana: The cost of busing students in New Orleans has doubled since 2004-05 as the average trip of 1.9 miles increased to 3.4 miles by 2012 thanks to school choice and open enrollment (The Lens). The Department of Education wants $378,000 back from a voucher school after it was discovered the school charged the state $6,300 per pupil but only $2,000 if the parent paid on their own (Times-Picayune).
Massachusetts: Mayoral candidates debate education at the local teacher union office and a few candidates are brave enough to show their support for charter schools and lifting the cap on charter schools (Boston Globe).
Michigan: Detroit public schools are stepping up their game to recruit and retain students in the midst of competition from charters and other public school districts (The Detroit News).
Minnesota: A high-poverty charter school in Minneapolis is beating the odds, improving student achievement and reducing the racial achievement gap (Star Tribune).
Missouri: Normandy School District must cut $15 million from its budget as students (and their funding) depart for other school districts under a state open enrollment plan for students in failing school districts (St. Louis Post-Dispatch).
New Jersey: A senate bill passed that will allow charter schools to specialize in serving students with substance abuse problems (NJ Today).
New York: New York City mayoral candidate Bill de Blasio, a Democrat, wants a full speed reverse on charter schools and education reform (Politico). However, up in Rochester, mayoral candidate Lovely Warren, also a Democrat, says she will support proven means to improve education, including charter schools and vouchers (Associated Press).
North Carolina: A charter school management company accused of financial mismanagement in Pennsylvania has filed paperwork to operate three charter schools in North Carolina (Progressive Pulse).
Pennsylvania: The Catholic Diocese  of Pittsburgh raised $447,000 for private school scholarships thanks to donations from the state's education tax-credit program (Pittsburgh Post-Gazette).
Texas: A charter school in McAllen has been approved to focus on English Language Learners, specifically Spanish speakers (The Monitor).
Virginia: Academics in Virginia have proposed a "controlled choice" plan that allows limited school choice with the aim of increasing racial diversity in public schools (Richmond Times-Dispatch).
Washington: The city of Spokane may get the state's very first charter school as it is home to the only school district to apply for, and be approved to host, a charter school. The teachers union is suing to block stop the charter school initiative (The Spokesman, KXLY Spokane).
Wisconsin: More calls for more standards and regulations on voucher schools (Superior Telegram). Private schools reject testing and performance requirements (Green Bay Press Gazette, Associated Press). More than 900 families applied for the school choice program in the state (The Northwestern).
Nation: Op-eds and editorials against President Obama and the Department of Justice over their anti-school choice lawsuits keep piling up (Washington Times, Bloomberg, Brookings Institution). The U.S. Department of Education is under fire for arguing that New York charter schools could not reserve lottery seats for disadvantaged students (Education Week). You've seen critics accusing charter schools of charging extra fees but more and more "free public schools" are charging fees as well (Wall Street Journal).
World: A think tank in Australia says competition does little to raise school performance because of government policy and human behavior (Education Week).