The U.S. Department of Justice says it filed suit against the voucher program in Louisiana because it was concerned about potential resegregation in some school districts. But a look at the racial makeup of schools in one of those districts shows the absurdity of the department's case.
The DOJ complaint highlights a few districts to show that in some cases, vouchers were causing more segregation. For example, the DOJ writes:
"In 2011-2012 Celilia (sic) Primary School in St. Martin Parish School District enrolled a student body that was 30.1 percent black, 16.4 percentage points lower than the black composition of St Martin Parish School District as a whole. In 2012-2013 Celilia (sic) lost six black students as a result of the voucher program, thereby increasing the difference between the school's black student percentage from the district's and reinforcing the school's racial identity as a white school in a predominantly black school district."
Jason Bedrick of the Cato Institute has done a good job showing the movement of black and white students in these districts, due to vouchers, changes the racial makeup about 1 percentage point. That is hardly a major change. Indeed, as Jason points out, six black students leaving with vouchers out of more than 200 black students probably won't be noticed. However, this movement is in the opposite direction desired by the DOJ. The racial makeup is moving away from the district average.
Clearly a 1 percentage point change is where the department draws its line in the sand. So with that, I present to you the only graph you need to see regarding the DOJ suit. It shows the percentage of black students attending each of the St. Martin Parish elementary schools: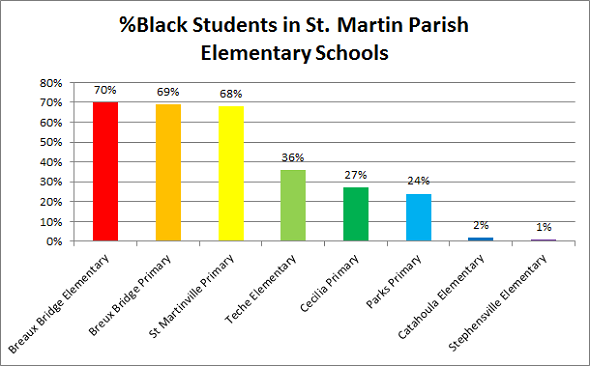 Yes, schools within the district range from 1 percent black to 70 percent black. To be fair, Catahoula and Stephensville are both considered rural schools. But that fact just highlights the problem with using district or state averages to determine "appropriate" levels of desegregation.
The DOJ has its head in the oven and feet in the freezer and thinks the average temp is just right. It seems embarrassingly unaware that there is a much bigger spread of racial segregation between public schools than within a public school losing a few students to vouchers.