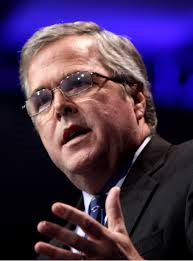 Jeb Bush, among the most vocal and visible supporters of Common Core academic standards, took a hard jab at critics Thursday, suggesting they drop the conspiracy theories and offer solutions.
"What I want to hear from them is more than just opposition," he said to 800 people in Boston, gathered at the annual conference put on by his Foundation for Excellence in Education. "I want to hear their solutions for the hodgepodge of dumbed-down state standards that have created group mediocrity in our schools."
"Criticisms and conspiracy theories are easy attention grabbers," he continued. "Solutions are hard work."
Bush's comments come as opposition to Common Core continues to generate a sharp-edged anxiety in his home state and beyond. This week, hundreds of Florida supporters and opponents turned out for public forums ordered by Gov. Rick Scott. Some critics said the standards, which the Republican-dominated Florida Board of Education adopted in 2010, were tied to fascists and communists. The term 'Common Core' has become so radioactive the state board actually debated this week whether to use it.
At a panel discussion following Bush's speech, political strategist Mike Murphy said polling shows most of the public still isn't familiar with Common Core. The heaviest opposition, he said, comes from Republican primary voters, who, when they're first asked about the standards, are opposed 2-to-1.
"They think it's a secret plot controlled by red Chinese robots in the basement of the White House," he said. "No wonder they don't like it."
But the polling, he said, also shows the more people learn about Common Core, the more they do like it. Even a slim majority of Republican primary voters view it favorably after additional information, he said.
Bush's speech acknowledged a tough year for his vision of education reform, which included the abrupt resignation of Florida Education Commissioner Tony Bennett and festering questions about the state's school grading system. He quickly pivoted into an often-overlooked fact – that growing numbers of influential Democrats are calling for similar reforms.
"I used to think what the unions said about me was bad, and then I heard what they were calling (Democratic Chicago Mayor) Rahm Emanuel during last year's teachers' strike," he said.
Emanuel and other urban mayors are "hardly ideologues, hardly conservative and hardly in cahoots with so-called villainous corporate interests," Bush continued. "They simply are on the front lines, dealing with decades of failure and fiscal recklessness by an education system dominated by union politics and enabled by pass-the-buck politicians."
Not surprisingly, Bush's speech also offered a full-throated call for expanded school choice. Florida is arguably the national leader in that regard, with more than 40 percent of all Sunshine State students now attending a school other than their zoned school
"We have the most diverse student population in history," Bush said. "It defies common sense to corral them all in the same early 20th Century education model and expect them to thrive."
"There should be more options across the board — charter schools, home schools, vouchers, tax-credit scholarships, and Education Savings Accounts – allowing parents to shop for a school that best meets their child's needs."
Read the full text of Bush's speech here.