Members of the University of Notre Dame's Alliance for Catholic Education are taking turns traveling cross-country by bus to raise awareness about Catholic schools and faith-based education.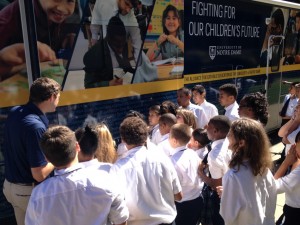 It's part of a 50-city tour, dubbed Fighting for Our Children's Future, that's aimed at highlighting how a Catholic education can have an impact not only on individuals, but on society as a whole.
"It's an opportunity to celebrate the community treasures that we have in Catholic schools,'' Christian Dallavis, senior director of leadership programs for ACE, told redefinED. "It's also a chance to recognize people doing heroic work.''
Much of that work is tied to keeping Catholic schools relevant, vibrant – and open. In the past 20 years, as other school choice options have grown, including tuition-free charter schools, more than 1,300 Catholic schools have closed.
ACE is devoted to saving Catholic schools and helping them fulfill their mission of providing children from all walks of life with a high-quality education. Through graduate level programs, ACE is training the next generation of Catholic school teachers and leaders.
ACE graduates and current leaders are among the contingent participating in the tour, which kicked off in Dallas last month with a forum at the George W. Bush Institute on the campus of Southern Methodist University. That's where the Rev. Timothy Scully, ACE's founder and director of Notre Dame's Institute for Educational Initiatives, spoke about the role of faith-based schools in America.
"At a time when the dialogue about K-12 education often seems unnecessarily polarized and stultifying, this is an opportunity for leaders across the political and ideological spectrum to re-imagine what faith-based schools can mean to our cities," said Scully, who recently won the William E. Simon Prize for Lifetime Achievement in Social Entrepreneurship by the Manhattan Institute for his work with ACE.
"Across the country, we see so much evidence that faith-based schools are indispensable instruments of both intellectual formation and social transformation,'' he said. "These schools truly are sacred places serving a valuable civic purpose, and we owe it to our communities and our children to do whatever it takes to support their revitalization."
A few weeks later, Scully and company traveled to New York City. This week, the bus will be in Milwaukee. In February, it comes to Tampa Bay, where ACE is working with five Catholic schools.
You can follow the tour with an interactive map that shows the ACE itinerary. There's also a travel blog that includes stories about how Catholic schools helped shape education in America.