Like their elementary and middle school counterparts, Florida charter high schools earned higher concentrations of both A and F grades than district schools, according to the state's latest school grades report.
Just how much higher depends on how you slice it. Bear with us.
The latest report, released Dec. 18, shows 63 percent of charter high schools earning A's for the 2012-13 school year, compared to 46 percent of district high schools. But there's a caveat.
The December report excluded at least 31 high schools (most of them charter schools) because the grades were reported last summer with the elementary and middle school grades. According to Cheryl Etters, a spokeswoman for the Florida Department of Education, some high schools were graded on an 800-point scale because the school was missing one or more data points for a complete evaluation. For example, a charter school without a senior class would not be able to calculate a graduation rate. Such a school would be unfairly treated under the full 1600-1700 point evaluation for high schools.
When combining high schools from the DOE's two databases, the percentage of A charter high schools drops from 63 to 55. When A and B grades are combined, district high schools lead 78 percent to 66 percent.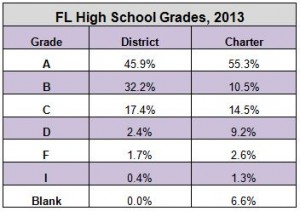 Among all school grades, with high schools now included, charters still lead with a higher concentration of A's and F's. (It should be noted that A charters outnumber F charters 6-to-1. It should also be noted that differences in the percentages of low-income students in charter schools versus district schools isn't being considered here.)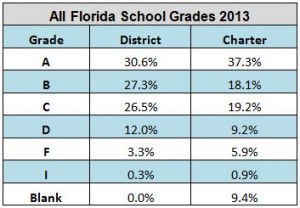 Finally, charter high schools did not appear to benefit any more or less than district high schools from the state "safety net" provision that kept schools from dropping more than one letter grade. Continuing with the same trends observed earlier, charter schools (of all types, and now with the high schools factored in) benefited less from the grade protections than district schools.