Every morning, Kevin Gines gets up an hour earlier so his mom can drive him to a nearby public school, where the 16-year-old sophomore takes a naval science class. Then he heads to a private Christian academy in North Florida to finish the rest of his school day.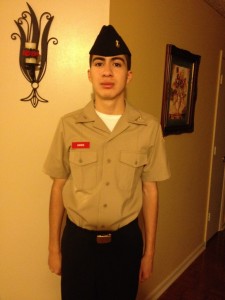 "He's really serious,'' said Kevin's father, Jesse, a security guard. "You should see how he shines his shoes. He's already a soldier.''
Kevin said he's willing to make the extra effort because he knows it's an opportunity he almost didn't get. His school, the Christian Home Academy in Orange Park, doesn't offer JROTC. So last May, the Gineses tried to sign up Kevin for the program at Middleburg High, a Clay County district school within minutes of their home.
School officials intervened, telling the Gineses that Kevin wasn't eligible because he wasn't enrolled in the public school, and that he couldn't register for only one class. A high school in neighboring Duval County said Kevin could sign up for JROTC there, but it was too far for his mother to drive each day.
Kevin was about to give up, but not his dad. Jesse Gines combed through state statutes. He learned private school students are allowed to participate in extra-curricular activities at public schools, such as sports and gifted programs. So are homeschoolers and students taking classes through Florida Virtual School. There's also a notice on the JROTC website that says students not enrolled at the school hosting the program can become special cadets.
But the district official overseeing enrollment wouldn't budge. Kevin, who comes from a family of Marines, appeared to be caught in a gray area.
Then his dad reached out to Step Up For Students, the nonprofit that administers the Florida Tax Credit Scholarship. Kevin's family uses the scholarship to send him and his little brother to Christian Home Academy. Step Up also co-hosts this blog.
We talked to JROTC officials as well as the state education commissioner at the time, Tony Bennett, and Clay County Superintendent Charlie Van Zant. Everyone agreed it would be a mistake if Kevin couldn't join JROTC and follow his dream.
"This isn't that hard,'' Van Zant told redefinED in June. "We're not going to keep a kid out of ROTC.''
Kevin enrolled in Middleburg High's JROTC program in August. Sometimes, it's harder than he expected, he said, but his report card is proof he can rise to the challenge.
"I just did what they told me to do, read what I had to read,'' Kevin said.
He volunteers to help during drill team practices and while he's not on the team, yet, Kevin said he's trying to learn everything he can. He wants everyone to know how grateful he is, especially his dad.
"It was my idea to fight," his father said. "But this is something he really wanted.''