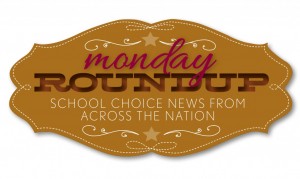 Alaska: The state's Blaine Amendment prohibits voucher programs which is why the state legislature seeks to pass a constitutional amendment (Anchorage Daily News). Vouchers discussed in the state assembly (The Frontiersman). Support for the amendment decreases (Alaska Dispatch).  Even though the proposed amendment does not create a voucher program, Dermot Cole, the editor of the Alaska Dispatch, says supporters must estimate the costs of a voucher program. The charter school movement grows statewide (Coolidge Examiner). Rural parents voice concerns about school choice (The Seward Phoenix Log). Should voters decide the amendment (Alaska Dispatch)? Two Democrats argue that magnet and charter schools are enough choice for parents (Anchorage Daily News). The mayor of Anchorage argues that many western democracies fund public and private schools (Anchorage Daily News).
Arizona: The non-profit running the phone calls to parents informing them of their right to school choice says the phone numbers were bought from a private agency, not the state Department of Education (Arizona Republic).
Connecticut: Gov. Dannel Malloy wants charter schools to access the school safety grant fund (West Hartford News).
D.C.: The charter school board postpones its vote to close a low-performing charter school (Washington Post).
Delaware: Two charter schools could serve as models for Rep. Eric Cantor (Daily Caller).
Florida: In a column at The Ledger, former state Sen. Paul Dockery argues for more school spending, less testing and that tax credit scholarship students take the FCAT. A new bill on the tax credit scholarship program looks to increase the scholarship amount and cap while allowing higher-income families access to partial scholarships (redefinED, News Service of Florida, Associated Press). Two school choice advocates argue that forcing private schools to administer the FCAT may weaken the appeal of private schools (Orlando Sentinel). The Florida League of Women Voters opposes expanding the tax credit scholarship program, arguing that private schools are too different from public schools (Orlando Advocate). Financial errors between district and charter schools will cost the Broward County School District $1.7 million in fines (Miami Herald, NBC 4). Julie Young led the Florida Virtual School for 16 years before retiring (Education Next).
Idaho: Lawmakers consider a 50 percent tax credit on donations to scholarship granting tuition organizations (Idaho Reporter).
Illinois: The Chicago Sun Times editorializes in favor of charter schools, arguing that they can be a way toward greater income equality. The state commission recommends extending the ban on new virtual schools for an additional two years (Beacon News). Faith-based charter school raises questions about public funding (Chicago Sun-Times). Activists in Chicago work to stop charter schools from taking over abandoned public school buildings (Chicago Tribune).
Indiana: Gov. Mike Pence's plan for a pilot pre-k voucher program may be put on hold this year (The Indy Channel). Supporters and opponents of school choice debate the cost (WLFI TV Part 1, WLFI Part 2). Mark GiaQuinta, an attorney for the Fort Wayne Community School Board, attended Catholic school but opposes school vouchers because they fund a religious education (Journal Gazette).
Kansas: The CEO of the Carpe Diem charter school network heads to Topeka to speak with lawmakers about blended learning charter schools (Topeka Capital-Journal). Lawmakers consider a program to provide scholarships, worth up to $8,000, to allow students to attend private schools (Topeka Capital-Journal).
Louisiana: Gov. Bobby Jindal flies to Washington D.C. to meet with President Obama and discuss the U.S. Department of Justice's anti-voucher lawsuit (Times-Picayune).
Michigan: School choice critics worry choice will hurt local schools (Lansing State Journal).
Mississippi: State Democrats oppose a voucher program for special needs students (Clarion Ledger). Adams County estimates that a single charter school could withdraw up to $1.5 million in student appropriations from district schools (Natchez Democrat).
Missouri: Public school leaders don't want to allow tax credits for donations to organizations supporting private schools (St. Louis Post-Dispatch).
New Jersey: Two new charter schools are approved for Camden and Newark (NJ.com).
New York: Is New York City Mayor Bill de Blasio risking mediocrity in his battle against charter schools (Forbes)? New York City school chancellor Carmen Farina wants to reach common ground with charter schools (NY 1, Newsday, New York Times). Lawmakers look to pass a $300 million tax-credit scholarship bill (Heartland News).
North Carolina: A judge orders an injunction against the state's new voucher program (Education Week, WRAL, Times-News, NC Policy Watch). Lawyers from the University of North Carolina Center for Civil Rights claim vouchers are racist by pointing to the racial demographics of four private schools in a state where there are actually no vouchers at this time (NC Policy Watch). School choice opponents say vouchers worth $4,200 won't be enough to pay for a private school education (WSOC TV). The editorial board of The Reflector believes that more children would be helped through public schools because the private vouchers are worth too little while the eligibility requirements mean most people remain ineligible. A Duke University law professor says only public education benefits everyone (News & Observer). The state court of appeals says charter schools are not entitled to district "rainy day" funds (News & Observer). Two new charter schools open in western North Carolina (Citizen-Times).
Ohio: Charter school opponents say public schools pay a high price when charters close (NBC 4).
Pennsylvania: For the second year in a row, the state has denied all virtual charter school applications (Education Week). The school board in Pittsburgh is ready to approve three new charter schools (Post-Gazette). Students in Readington experiment with virtual classes (Lehigh Valley News). Philadelphia charter schools turn to the bond market to finance construction debt (Philadelphia Inquirer).
South Carolina: Vouchers for special needs students help families (Post & Courier).
Tennessee: Lawmakers work out the details for a voucher bill limited to low-income children in low-performing public schools (The Tennessean). Lawmakers file a bill to close low performing charter schools (The Tennessean). Parents camp out 5 days before public school choice open enrollment opens (WKNO FM).
Texas: The Texas Education Agency shuts down six charter schools (Your Houston News).
Utah: A charter school may have overstepped its authority by making improvements to property it does not own (Standard-Examiner).
Wisconsin: The editor of the Leader-Telegram believes public schools have an unfair disadvantage. A bill to grade and sanction low-performing private schools struggles to gain traction in the House despite the support of Gov. Scott Walker (Journal-Sentinel). An accountability bill passes in the state Senate but does not provide sanctions for low-performing schools (Post Crescent). If you are a charter school, buying real estate from the school district can be tough, but closed car dealerships are happy to sell their vacant property (Journal-Sentinel).
Nation: A federal voucher bill will allow military dependents to receive scholarships to attend private schools (redefinED). Magnet schools make a comeback in urban areas (New York Times). The school choice movement gaining momentum around the country (Newsmax). How do progressives and Marxists feel about school choice? Paul Buchheit argues that it ruins education (Salon). Why does the political left shun progressive charter schools (New York Post)? Want to attract or keep families in the inner city? Give them school choice (Fordham Foundation). A new survey looks at what parents think about Common Core, charter schools and choice (Hechinger Report). Are charter schools beating back the public relations campaign against them (National Review)? School choice is good for students (Washington Times).