A bill aimed at streamlining charter school applications and a proposed expansion of Florida's tax credit scholarship program have gotten their share of headlines going in to the Florida legislative session that starts today.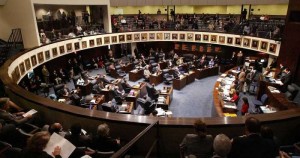 But those are far from the only school choice measures in play. Here is a rundown, not quite exhaustive, of school choice legislation worth keeping an eye on over the next 60 days:
SB 850 would require community colleges to establish "collegiate high schools" that would be open to students throughout their target service areas. The new institutions would allow students to complete their first year of college by the time they receive their high school diplomas. A Senate panel today will consider merging it with a House bill that would create an "early warning system" for middle school students.
SB 790 has already gotten attention for increasing the state's financial commitment to digital learning. A provision inserted by Sen. Jeff Brandes, R-St. Petersburg, should resonate with people following the effort to open a new charter school at MacDill Air Force Base. It would codify the Legislature's intent to "encourage military installation commanders to collaboratively work with the Commissioner of Education to increase military family student achievement, which may include the establishment of charter schools on military installations."
HB 533 aims to expand access to extracurricular activities for home-school, private school, charter school and virtual school students. Right now, state law allows those students to join sports teams at nearby public schools. This bipartisan proposal would broaden that provision to include performing arts, debate clubs and other extracurricular activities. It would also allow private school students to participate in activities at other schools in their district if they are zoned to a public school that doesn't offer them.
SB 1512 , sponsored by Sen. Kelli Stargel, R-Lakeland, would create "Personalized Accounts for Learning," similar to education savings accounts, for some students with disabilities. It would allow parents of children with conditions like autism and cerebral palsy to use up to 90 percent of the state's core per-pupil funding to cover expenses like private school tuition, certain kinds of therapy, or instructional materials tailored to their child's needs. The House Choice and Innovation Subcommittee is expected to discuss a similar idea today.
HB 1255, by Rep. Janet Adkins, R-Fernandina Beach, would create "Educational Student Achievement Zones," aimed at luring new education providers to areas with struggling schools. It would provide them with additional state funding if they extend their school days.
SB 1124/HB 1043, SB 1284/HB 1265, proposed by Democratic lawmakers, would place stricter requirements on charter schools, including a measure that would restrict their ability to "involuntarily withdraw" students. Two South Florida Democrats have also proposed creating a voluntary commission aimed at preventing and mitigating charter school failures.
HB 7031/SB 1226 is a wide-ranging "clean-up bill" that would clarify provisions from last year's Career and Professional Education Act. The new law bars students from taking driver's education, one of Florida Virtual School's most popular courses, to meet the state's online course requirement for high school graduation. This year's bill would clarify that the requirement does not apply to students who started ninth grade before the 2013-14 school year.