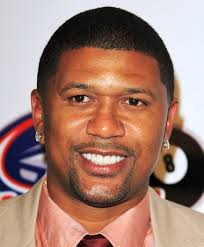 Editor's note: This guest post was written by Jalen Rose, the ESPN analyst, former NBA player, charter school founder and now educational choice ambassador for the American Federation for Children.
It's that time of year again when basketball and brackets take center stage. This March Madness, we'll be pulling for our favorite teams and celebrating the players for their hard work and commitment – both on and off the court. And, while we may have differences in our final bracket picks, we know one thing is certain: many of the players we'll be cheering for are student athletes who were given the opportunity to earn a quality education based on their athletic talents.
Many of these student athletes come from challenged backgrounds – not much different than my own. As many know, I grew up in Detroit, but thankfully, I was both afforded opportunities to attend a great college as a result of my basketball talents.
While a select few are able to capitalize on their individual athletic skills, for far too many students that simply is not an option. Sadly, in the United States, too many children do not have these same opportunities due to gaps in their educational experience that lead to a lack of fundamental knowledge and skills – those same skills that are necessary to be accepted into college and to succeed in life.
That's why as we focus our attention on March Madness, I  hope to shed a light on the true "madness" in this country – the fact that every 26 seconds a student drops out of school.
Far too many of our minority students are not receiving the education they deserve because for many, the idea of attending a quality school is simply unattainable. I believe that this is unacceptable.
To put it into perspective, an estimated 366,369 kids will drop out of high school while we watch the 63 games throughout the tournament.
This is madness.
Students in our country deserve more educational options. They deserve access to best school for their needs, no matter their family's income, and no matter their race. I am committed to empowering parents with the ability to choose the very best school for their child.
Education inequality is everywhere. Children are trapped in schools that do not meet their needs, in which student bodies are determined solely based on a ZIP code. It is no secret that many of those children who struggle in failing schools come from minority or low-income families. The real tragedy is that a great school can be just around the corner or is a short drive away, but children are denied the right to attend a superior school in our current system.
Educational choice gives every child the opportunity to attend the school that works for them and provide them with the tools they need to succeed. Whether it is private, public, charter, virtual or homeschooling – tailoring a child's education to their needs is necessary.
As an advocate for educational choice, I have seen the positive impact of choice on numerous families and children across the country. I have visited and met with students who had come from failing and underperforming schools, now succeeding at high quality private schools – all due to educational choice.
My commitment to improving the educational options for inner city children is what inspired me to open the Jalen Rose Leadership Academy charter school – to provide a quality educational option to students in Detroit.
This month, as we participate in the annual March Madness activities, we must not forget the true madness – that too many children are trapped in a school that fails to meet their needs.
And, just as we commit to our school during the tournament, we must come together and commit to the cause: Educational Choice Now. So every child, no matter their ZIP code, no matter their race, and no matter their parent's income, can access a quality education.
Jalen Rose also participated in the Educational Choice Now PSA campaign, which also featured Deion Sanders, Kathie Lee Gifford, Lisa Leslie, Lou Gossett, Jr., Vivica Fox, Stephen A. Smith, Keshia Knight Pulliam, "Mary Mary," Janet Evans, Theotis Beasley, Mary Millben, Laila Ali and Garcelle Beauvais. The PSA can be viewed here: http://youtu.be/zninXYFDqvs