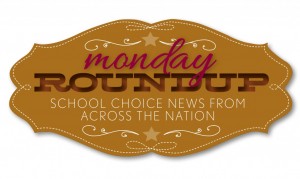 Arizona: Former state Sen. Tom Patterson says school choice is opposed by unions because the unions feel school choice threatens jobs for adults (East Valley Tribune). An advancing bill will allow special needs kids to have access to Empowerment Scholarship Accounts without having to get approval from school districts first (Associated Press).
Florida: The tax credit scholarship expansion bill that was killed in the senate gets new life (Miami Herald). A bill that would allow education savings accounts and an expansion of the tax-credit scholarship program advances out of the House Appropriations Subcommittee on a party line vote (redefinEd, Orlando Sentinel, Miami Herald, WFSU, Associated Press, The Florida Current). There has been a genuine surge in applications for tax credit scholarships, so much so that processors stopped keeping a waiting list for fear of creating false hope. (redefinED). Valerie Strauss says there was never a wait list for the tax-credit scholarship program (Washington Post).
Lawmakers look to make opening charter schools easier (WPTV) and give charter schools access to unused school district buildings (redefinED). A bill to allow school choice students to participate in extracurricular activities at a local public school advances unanimously through three committees (redefinED). One out of every 10 students in Palm Beach now attend a charter school (Palm Beach Post).
Illinois: The Chicago Tribune editorial board says the state should expand charter school authorizers and not eliminate the new Charter School Commission.
Kansas: Republicans remove a tax-credit scholarship proposal from the education funding bill (Witchita Eagle).
Kentucky: The state senate passes a bill which would allow low-performing public schools to be converted to charter schools (Education Week).
Louisiana: The Lafayette Charter Foundation says charter schools are public schools (The Advertiser). Charles Lussier of The Advocate, says the state's charter schools have been strong performers but new schools in Baton Rouge must must be better.
Massachusetts: Hundreds of parents protest the expansion of charter schools (Boston Globe). Charter school supporters want to lift the state cap on charters (Salem News). A bill to expand the number of charter schools in the state fails to meet a deadline (Education Week, Milford Daily News).
Maine: Maine Virtual Academy's charter application was rejected by just one vote and now the school asks for the board to reconsider (Portland Press Herald). Charter schools are facing more demand this year (Kennebec Journal).
Mississippi: Sam Hall, editor of the Clarion Ledger, says allowing special needs vouchers to be used in private schools out of state may be a problem, but not a big enough problem to kill the voucher bill.
Nevada: Americans for Prosperity says Nevadans shouldn't have to be stuck in bad public schools (Las Vegas Review-Journal).
New Hampshire: Charter schools in the state struggle to find good school buildings (NHPR).
New York: Mark Crespo, a Democratic member of the state assembly, argues the tax-credit scholarship bill must be passed into law (New York Post). The Archbishop of New York lobbies for tax-credit scholarships (Legislative Gazette). The New York Daily News editorial board says the tax credit for public school donations and private school scholarships benefits the public. New York City Mayor Bill de Blasio says he will help charter schools find a home (New York Daily News, Wall Street Journal, New York Post) and also says charter schools will be allowed to expand and co-locate under his administration (New York Post). Public school supporters oppose the governor's support of charter schools and demand $1.3 billion extra for public schools (Times Union). De Blasio's allies sue over the mayor's decision to allow 14 charter schools to co-locate with public schools (New York Post). Charter school supporters rally in Queens, asking lawmakers in Albany to help fund charter school buildings (Times Ledger). A charter school operator says the state must increase financial support so charters receive equal funds to public schools (Buffalo News). Gov. Coumo wants to give charter schools more funds in order to rent vacant public school buildings (New York Post, New York Daily News, WABC, New York Observer). Gary Orfield from the University of California says New York City has the most segregated public schools but charter schools are making it worse (Huffington Post). Public school officials and teacher union leaders oppose giving access to capital funds to charter schools (Chalkbeat). The charter school debate in Albany highlights a growing rift within the Democratic party (Fox News).
North Carolina: School board commissioners in Mecklenburg worry about not being able to control how charter schools spend money  (Charlotte Observer).
Ohio: Journalism students in the state call charter schools to request information on school leaders, building operators, and board meetings but found few answers (The Vindicator). The United States Supreme Court has found that vouchers do not violate "seperation of church and state" but one blogger at the Akron Beacon Journal disagrees.
Pennsylvania: The Lebanon Daily News editorial board says the state shouldn't allow charter schools to double dip in pension fund payments but that the state should create more authorizers so more charter schools can be created.
South Carolina: Public school advocates rally at the state Capitol to support public school choice (The State).
South Dakota: Critics worry that open enrollment in public schools can lead to segregation (Argus Leader).
Tennessee: A limited voucher program for low-income kids in low-performing public schools advances in the senate (Associated Press). Gov. Bill Haslam wants the voucher program to serve fewer students than the proposal in the state House (Associated Press). The Jackson Sun editorial board says a limited voucher program will only help a limited number of students yet the board will only support a voucher program if it is limited.
Vermont: Students attending religious private schools will not be allowed to participate in the state's college dual enrollment program (Vermont Press Bureau).
Wisconsin: A family finds a good school and community support through school choice (Wisconsin Rapids Tribune).
Nation: The Alliance for Free Choice in Education says there should be universal school choice for all (NJ.com). Stephanie Simon finds an unknown sum of money, but less than $1 billion, goes to faith-based schools which may or may not teach creationism (Politico). School choice supporters pile on Simon for her story (National Review, Time Magazine, Jay P. Greene's Blog, Cato Institute, Eduwonk, Daily Caller). Hilary Clinton praises Jeb Bush for his education reform efforts in Florida (CNN). Thomas Sowell says school choice can bring black voters to the Republican Party (Newsmax). Access to good schools shouldn't be based on the market price of housing (Education Next). Michael Taube of the Washington Times argues that charter schools are really shut down to benefit the union. Diane Ravitch says the explosion in charter schools is all about the money (Bill Moyers).