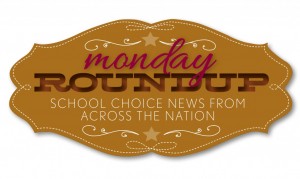 Alaska: A lack of capital funding impedes charter school growth in the state (Anchorage Daily News). Gov. Sean Parnell wants to allow charter schools to have access to district transportation funds (KTUU, Associated Press). School choice will benefit rural students (Juneau Empire).
Arizona: A former high school teacher says vouchers for private tuition are like privately run prison systems (Ahwataukee Foothills News).
California: A virtual school student wins a school video contest sponsored by the White House (The Cambrian).
D.C.: Rocketship charter schools expand to the city (Education Week).
Florida: House Speaker Will Weatherford releases a bill to expand the tax-credit scholarship program (The Ledger, News 13, Tampa Bay Times, Associated Press, WEAR TV). School choice gets support from the Jewish community in south Florida (Jewish Journal). Private schools and parents may not want to take the FCAT (Orlando Sentinel). A lecturer at the University of Central Florida says private schools accepting tax credit scholarships should administer standardized tests to students (note: the law already requires tax credit scholarship students to take national norm-referenced standardized tests) (Orlando Sentinel). The Orlando Sentinel editorial board says private school scholarship students should take standardized tests (state law already requires tax-credit scholarship students to take norm-referenced standardized tests). So does the South Florida Sun Sentinel editorial board. The Tampa Tribune supports the expansion. Tampa Bay Times columnist John Romano says tax-credit scholarships have no accountability and reduce public school per-pupil spending. Charter Schools USA operates 34 schools in the state, but one "F" and one "D" rated school encouraged Orange and Seminole County school districts to repeatedly deny applications to expand (Orlando Sentinel). Broward County school superintendent Robert Runcie collaborates with charter schools (Education Week).
Illinois: Chicago-area charter schools expel a higher percentage of students than local public schools (Chicago Tribune). Rockford-area charter schools saw the greatest improvement in standardized test scores (Rock River Star).
Indiana: Gov. Mike Pence wants to revive his pre-k voucher program with just two weeks left in the session (Indianapolis Star).
Louisiana: A federal appeals court overturns a local judge's injunction against the state voucher program in Tangipahoa Parish (Times-Picayune). A state audit reveals that mostly low-income minorities attending private schools on vouchers score lower than the average student in public schools. Critics use the opportunity to attack vouchers and demand more "accountability" (The Advocate). Nine out of 10 students in New Orleans now attend charter schools (Christian Science Monitor).
Maine: The state House votes to place a moratorium on virtual charter schools (Bangor Daily News). It votes in favor of  a state-run virtual school (Portland Press Herald). The Main Sunday Telegram editorial board favors a state run virtual school over privately run public virtual charter schools.
Massachusetts: The state board of education approves plans for a virtual school (Metro West Daily News, Patriot Ledger).
Missouri: A bill to allow students in low-performing districts to transfer to non-sectarian private schools survives a Senate hearing (St. Louis Post Dispatch).
Mississippi: Parents push for special-needs vouchers (Jackson Clarion Ledger).
Nebraska: Lawmakers are considering a bill to allow five charter schools in Omaha (Watchdog, KETV 7).
New Jersey: The Camden Education Association claims charter schools strip parents of their rights (Courier Post).
New York: New York City Mayor Bill de Blasio stops several charter schools from moving, or expanding, into empty public school space (New York Times, USA Today, New York Daily, Fox News, New York Daily Magazine, Daily Caller, Wall Street Journal). Ed Cox, chairman of the state's Republican committee says de Blasio is hurting low-income students by fighting charter schools (New York Post). Charter school supporters plan a rally in Albany to protest de Blasio's war on charter schools (Associated Press). House Majority Leader Eric Cantor (R-Va.) accuses de Blasio of waging a war against children in NYC charter schools (Washington Post).
North Carolina: A student who wanted a voucher will have to wait until a judge lifts the injunction (Gaston Gazette). Two civil rights lawyers at the University of North Carolina argue that vouchers go to schools that discriminate while the law is rooted in racism (Durham News). The N.C. NAACP says vouchers have a racist past and will lead to more segregation (WRAL). Education does have a terrible racist past, but vouchers are not rooted in racism; in fact, they may likely reduce racial segregation in the state (redefinED). Darrell Allison, president of Parents for Educational Freedom in North Carolina, says public education must adapt, including adapting to a system where students are allowed to choose public and private options (Durham News). Supporters and opponents of vouchers claim to support civil rights (Indy Week). Nearly 200 students in Durham County applied for vouchers (Herald Sun). Private schools will be unable to enroll low-income voucher students while the injunction holds the program in limbo (Daily Herald). An op-ed in the Charlotte Observer talks about listening to both sides of the voucher debate. The neighborhood school is no longer the only option in the state (Fayetteville Observer). Dr. Terry Stoops of the John Locke Foundation says parents vote with their feet and they support school choice (Carolina Journal). Troy Williams, a radio show host in the state, says vouchers will help black children escape low-performing schools (Fayetteville Observer).
Ohio: Next year 60,000 private school scholarships will be made available to students in low-performing public schools (Inde Online).
Oklahoma: Lawmakers propose education savings accounts for families of four with household incomes up to $88,000 a year (KGOU).
Pennsylvania: A Penn State professor says for-profit cyber schools are bad for the public good (Penn State News). Pittsburgh rejects three charter schools, including a school for special needs children (Post-Gazette). Citing budget concerns, the school district in Allentown rejected to plans for charter schools in front of a crowd of charter school supporters (Lehigh Valley News). District and charter school officials discuss issues with the state's auditor general (The Morning Call, WESA 90.5 FM, Times Online).
South Carolina: Virtual schools will give kids more options (Aiken Standard).
Tennessee: The Tennessean editorial board argues against for-profit charter schools.
Utah: A state audit reveals virtual charter school violations, including providing courses to home school students, which is currently not allowed by state law (Salt Lake Tribune). The state House kills a bill to allow tax-credits for homeschooling (Salt Lake Tribune).
Virginia: The Norfolk Public School District drops its plan to convert low-performing public schools into charter schools (WAVY TV 10).
Wisconsin: Americans for Prosperity wants parents in the state to be empowered through school choice (Wisconsin Rapids Tribune). The Appleton Post-Crescent editorial board says private schools should be treated more like public schools in order to get an apples-to-apples comparison. College Democrats at the University of Wisconsin call vouchers a "waste of money" (The Badger Herald).
Nation: A federal proposal to spend $11 billion on school choice scholarships will be a fair and effective way to educate students, writes columnist Armstrong Williams (Newsmax).