Achievement gaps are smaller for Florida's charter school students than for their peers in traditional public schools, according to the state Department of Education's latest state-mandated report comparing their student achievement.
Like previous years' reports, the latest results show charter schools outperforming their district-run counterparts on a range of measures, scoring higher and making larger gains in most of the department's comparisons. Of the 177 comparisons in the report, more than 150 gave charter schools an edge.
But the report shows school districts gaining ground in some areas. For example, unlike in previous years, traditional public schools matched the learning gains charter schools achieved in math for the student population as a whole.
The department compared the sectors across demographic groups, including white, black, Hispanic, and low-income students, as well as students with disabilities and English language learners, broken down among elementary, middle and high school students.
Charter schools fared especially well in the achievement-gap comparisons. Black and Hispanic students trailed their white peers by smaller margins at charter schools in 17 out of 18 comparisons. The difference was especially notable for Hispanic students taking high school algebra, and for Hispanics in reading at all grade levels.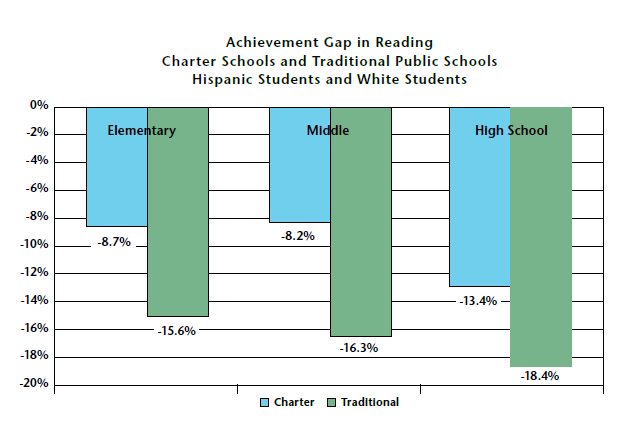 Other studies that controlled for a range of demographic factors (see examples here, here and here) have found traditional public schools may outperform charter schools in measures based on student test scores, while other studies looking at a broader set of outcomes have found advantages for charter school students. This report, based on 3.2 million test results, may add new fodder to the debate.