One parent told us it was a blessing. Another said it was like winning the lottery. Another said she and her son, an eighth-grader with autism, had "finally won."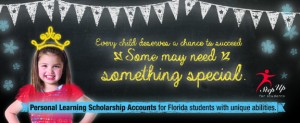 Today marks the start of a new K-12 scholarship program in Florida and maybe even a new era in parental choice – a shift from simply giving parents the power to choose from amongst schools to something more personal and far-reaching. The early reaction from parents suggests it couldn't have happened soon enough, and to a more deserving group.
"This scholarship will make all the difference in the world," said Dorothy Famiano of Brooksville, who has two eligible children – Nicholas, who has Spina bifida, and Danielle, who has been diagnosed with autism.
Starting at 9 a.m., Famiano and other parents of children with significant special needs including autism, Down syndrome and cerebral palsy can apply for Personal Learning Scholarship Accounts. PLSAs will allow parents to use the money to choose from a variety of educational options – not just tuition and fees at private schools, but therapists, specialists, tutors, curricula and materials, even contributions to a prepaid college fund.
The program reflects the obvious benefits of tailoring a child's education to his or her specific needs; the explosion in educational options that makes customization more possible and fine-tuned; and the sensibility of giving parents the power to make those choices. But don't take our word for it.
Michele Kaplan of Coral Gables said a scholarship account will be a game changer for her son, Matthew, 9, who has a dual diagnosis of autism and Fragile X syndrome.
Matthew currently benefits from a suite of expensive therapies that together bolster his academic progress, including behavioral, occupational, physical and speech therapies. But the Kaplans can't afford to continue them and, like other families with children with special needs, face the prospect of limiting the help they provide their son.
"My goal for Matthew is independence – living independently and being able to succeed on his own in the community," Kaplan said. "Right now, with the old way of doing things, I don't see him getting to that point. But with a Personal Learning Scholarship Account, we will be able to sustain the therapies and give Matthew the most success possible."
It was widely reported this week that the Florida teachers union has filed a lawsuit seeking to block SB 850, the bill that created the scholarship accounts. (The bill also contained other education initiatives, including expansion of Florida's tax credit scholarship program. Step Up For Students, which co-hosts this blog, is among the organizations authorized to administer tax credit scholarships and the new PLSAs.)
As litigation moves forward, we trust that the voices of those at the heart of the matter won't get lost.