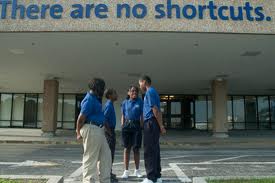 The Duval school board is set to take up a plan next week that would allow for a substantial expansion of one of Florida's most high-profile charter school endeavors.
KIPP Jacksonville has applied to open a new K-8 school that could eventually serve 1,800 students, roughly tripling its current capacity.
The new school won't get that big overnight. Its plans submitted to the school district call for the new school to expand methodically over an 11-year period. It would add one grade each year, and gradually increase the number of students at each grade level.
"We want to make sure we scale and grow with quality," said Tom Majdanics, KIPP Jacksonville's executive director.
About 660 students currently attend KIPP's existing middle and elementary school in Jacksonville. Enrollment is expected to reach about 860 students once KIPP Voice Elementary, now in its third year, reaches full capacity.
The application for the new school, which is set for a vote at the school board's Nov. 4 meeting, calls for enrolling 50 kindergarten students during the 2015-16 school year. It would grow to 100 kindergarten students and 50 first-graders the next year, and eventually reach approximately 750 students in grades K-4 in the new school's fifth year. It could eventually grow to a K-8 school serving 200 students per grade.
KIPP (short for Knowledge is Power Program) operates 162 schools around the country. Its two Jacksonville schools are among the few cases of nationally known charter networks setting up shop in Florida school districts, an effort education officials hope to mimic in other places.
In a letter expressing interest in a state-funded charter collaboration grant, Duval Superintendent Nikolai Vitti noted KIPP Impact Middle School, which targets disadvantaged students in northwestern Jacksonville, "outperformed all neighboring middle schools" on a range of academic measures in reading, writing, math and science.
Duval's charter school collaboration application calls for the charter network and the district to work together developing an internship program with a local college and studying different approaches to blended learning.
KIPP's new charter application predates the grant proposal, and is one of two that district staff have recommended to the school board for approval.