The students at the City of Palms Charter High School in Fort Myers, Fla., had good reason to be excited. In a few hours, buses would take them to Howl-O-Scream at Busch Gardens in Tampa. The annual trip rewards students who come to school regularly during the first months of the school year and complete some of their courses.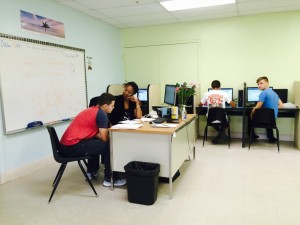 For many students at City of Palms and a growing array of similar schools, that's no small feat.
Charter schools like it are growing to fill a vaguely defined, little-studied and often-overlooked niche in Florida's increasingly diverse education landscape. They carry descriptors like "dropout prevention," "alternative schools," and "credit recovery."
In plain terms, they are schools of last resort. They cater to students who dropped out or at risk of doing so, or who have failed courses or "aged out" of traditional high school. They use blended or online lessons to help students rack up credits. The goal is for them to make up for lost time, and leave with a standard diploma.
As the principal, Sarah White, moved through the warren of computer desks inside City of Palms' main campus, she asked students: "Everybody get their five quizzes" for the day? If they have, they're on track.
City of Palms targets students aged 16-21. When students enroll at the school, or at a new, second campus in nearby Lehigh Acres, they receive a transcript, which lists the courses they've completed and the courses they need to graduate. Using the Apex online curriculum, they take their courses one at a time, immersing themselves in a single subject until they pass the final exam and are cleared by their teachers. Finishing a course can take about a month.
"I've had kids finish a P.E. class in a week. I've had kids finish English in two months," White said. "The biggest thing is making them accountable for their education."
The classrooms contain large banks of computers, with teachers offering help to students who need it. There are no class changes in the halls, and there is no cafeteria. When students arrive, for morning or afternoon sessions (another common feature of credit recovery charters), they're free of distractions.
While there have long been alternative schools aimed at students who have fallen behind, City of Palms is part of a relatively new breed of alternative charter schools that specialize in credit recovery. The rise of credit-recovery programs, aided by the growth of online learning, is only beginning to get attention from education researchers.
A 2012 report from the Center for Public Education, a think tank backed by the National School Boards Association, concluded little is known about the efficacy of their approaches – or even how to define them. "There is a real dearth of research on credit recovery," Jessica Heppen, an analyst with the American Institutes for Research, said in an Education Next article earlier this year. "Even basic questions are unanswered, like the size of the business and the size of the need."
It's a specialty that has attracted charter schools and digital learning providers that break from the conventions of traditional schools. Test scores at these schools tend to be lower than at their traditional counterparts, and there is no shortage of headlines about such schools struggling as much as their students.
City of Palms, like many of Florida's alternative schools, did not receive a letter grade from the state. But some educators who specialize in credit recovery say they should be judged with a different bar – perhaps, for example, by the number of students who leave their schools with standard diplomas and wouldn't have otherwise.
Because its teachers give students in-person assistance, "our program makes it much easier to pass than just self-studying for the GED," said Amy Rohner, a consultant who helps oversee business operations at City of Palms and its growing network of schools in Lee County.
White has been away from the original campus most of the school year, helping to set up the second location. The network's application for a third charter in the same district is set to be taken up soon by the Lee County School Board.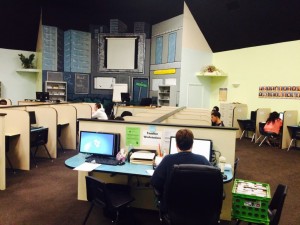 Lee County has proven fertile ground for alternative charter schools. In addition to City of Palms and its new Palm Acres campus, there's DJB Technical Center and a trio of charters operated by Accelerated Learning Solutions, a Nashville-based company that runs 23 charter schools in Florida.
Another school, Pivot Academy, shares some features with those schools but is not listed as an alternative school because, according to Jeff McCullers, a Lee County schools administrator who oversees charter schools, "it does not prepare its curriculum and instructional models specifically for at risk students."
McCullers said in an email that the growth of charters and district-run choice options like career academies has created a system in which nearly "every school in our district has come to fill some sort of niche." The alternative charter high schools enroll about 1,350 students, or 5 percent of high school students in the district, providing a home for students who may have struggled to find a place in traditional schools.
One such student was Greys Guilarte, who graduated from City of Palms earlier this year and now works with ESOL students on the school's new campus.
Guilarte said she enrolled at the school after arriving from Cuba last year, at age 18, and found out she was too old to enroll in a traditional high school. She needed another year's worth of courses. She finished them, and graduated as the school's valedictorian – all while learning to speak English.
Now, as a teacher's assistant, she helps other students where her teachers helped her, translating their lessons and engaging them in conversations to help build their vocabulary. She said she expects to start looking at colleges once she receives her green card in January.
White, the City of Palms principal, was a Lee County public school teacher who became an administrator at a charter school run by White Hat Management. When the embattled charter operator pulled out of Florida and prepared to shut down its Life Skills center in Lee, she helped take the operation local. She helped the school get out of a costly building lease and move into its current office-plaza location. A recent audit notes the school's local board has become more active in its management.
With operators from outside the district targeting similar students, City of Palms emphasizes its local roots. Rohner, its service provider, works only with schools in Lee County.
In 2014, the local school counselors association named White administrator of the year – the first time it bestowed that honor on a charter school principal.
"We are not in competition with the district schools," she said. "We are here to complement them."