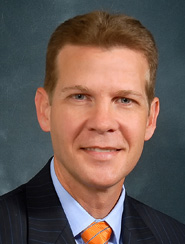 Florida's experiment with personalized accounts that help parents meet the educational needs of their special needs children is only beginning. In coming years, it could support a key priority for the incoming president of the state senate: Helping more of those children gain access to a college education.
Senate President Andy Gardiner told a room full of education advocates and pro-reform lawmakers in Washington D.C. Thursday that he wants to work with colleges and universities to expand higher education options for special needs students. He hopes parents who use Personal Learning Scholarship Accounts for special needs students will be better able to take advantage of those options.
The accounts, created by legislation signed into law this year, allow parents of students with specific special needs to use state education funds to pay for a mix of private school tuition, therapies, home-school curriculum, and other educational expenses. They can also use the accounts to start saving for college. The program is administered by organizations like Step Up For Students, which co-hosts this blog.
Gardiner, who is the father of an 11-year-old with Down syndrome, said college often seems out of reach for parents of special needs students. They must overcome a belief that "in the eyes of society, they're not going to be able to get to that point."
He said he wants that to change. Some Florida colleges are already creating programs aimed at special-needs students, and Gardiner, who eschews the term "disabilities," hopes to create more of them.
"We'll come forward with a plan for a post-secondary option for individuals — not with disabilities, but unique abilities," he said during a panel discussion at the Foundation for Excellence in Education's annual summit.
The Orlando Republican was joined on the panel by Kathy Visser, a parent of a special needs student in Arizona, the only state to enact a similar account-based scholarship program before Florida. Once the program got started, she said, parents started setting up online forums to share ideas and information about which providers worked best.
As parents become informed consumers, they'll have an incentive to find the most cost-effective providers, since any funds they do not use right away can be used to pay for college later, Matthew Ladner, a senior policy adviser for the Foundation for Excellence in Education, told the panel. For that reason, he said, the accounts can put pressure on the education system as a whole to become more efficient over time.
There are signs the experiments with account-based parental choice programs, begun in Florida and Arizona, are starting to grow and spread.
On the campaign trail earlier this year, Florida Gov. Rick Scott talked about expanding the program to include a wider array of special needs. Gardiner said one possible area for expansion might be broadening the definition of autism that allows students to participate. The current definition applies only to severe cases.
Gardiner helped field questions from lawmakers from other states, who said they were interesting in launching similar programs. He predicted such options would proliferate, in part because education in the future is going to become more customized around the needs of individual students.
"I think there will be expansion around the country, not just because I think it's going to be successful. I actually think technology and the students themselves are going to drive that," he said. "I just think [education is] going to be much more technology-driven, and these scholarships are going to play a huge part."