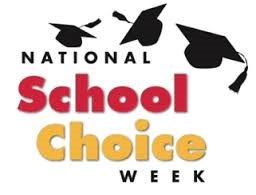 Early next year, nearly 9,000 schools around the country are expected to take part in what organizers are calling the "largest celebration of educational opportunity in American history."
Florida is expected to be the epicenter. National School Choice Week is announcing today that it's kicking off its national series of events with a rally of students, educators and school choice supporters at Jacksonville's Florida Theater in January.
It's a natural place to launch a celebration of educational options, said Andrew Campanella, the president of National School Choice Week. Florida is a state where nearly 1.5 million students choose their schools, and one in four public schools is either a charter or a magnet.
"We wanted to recognize the tremendous success story of school choice in the Sunshine State by hosting the first event of National School Choice Week 2015 in Florida," he said.
The campaign has grown exponentially since it started in 2011, fueled by the growth of choice programs around the country and an increasing recognition among school districts that they, too, are part of the school choice movement. As the campaign has grown, its events have drawn celebrities and top politicians. The list of VIPs for Florida's event is not yet set.
For the first time, the Jan. 23 kickoff event will be broadcast on national television. Satelite feeds will also connect the Jacksonville event to other celebrations around the country.
Campanella said Jacksonville was chosen in part because it's been a strong base of support. Florida is home to some 1,200 of the nearly 8,500 schools already planning National School Choice Week events for next year, and more than 100 of them are in Jacksonville. Alvin Brown, Jacksonville's mayor, was one of two from Florida's major cities who issued proclamations supporting last year's events.
Schools of all types — public and private, district and charter, online and bricks-and-mortar, as well as home education families — put on events during the week of celebration.
Lisa Graham Keegan, a former state schools superintendent from Arizona who now serves as a senior adviser to National School Choice Week, said the events are designed as a series of "parties" that transcend politics.
"This is really a safe space," she said. "It's not about the battles it takes to get school choice. It's just about school choice" — and celebrating students' achievements.
Campanella, who is based in Walton County, Fla. and the son of a public school teacher, said the the week of celebrations aims to create a "big tent" that draws positive attention to schools around the country. He encourages schools to participate even if they only support one or two of the options on the school choice spectrum.
"We're trying to get people together to celebrate around the basics: That when parents have the power to choose the best schools for their kids, good things happen," he said. "Kids learn at higher levels, they graduate at higher levels, they're more prepared for life. Everyone benefits."