Some things for school choice will be different after Tuesday, when the Florida Legislature holds its annual organizational session and sets the tone for the next two years. In the wake of the Nov. 4 elections, there will be more Republicans, more school choice supporters and more potential for a new coalition to take Florida's already ahead-of-the-curve education policy into uncharted territory.
Of the 22 new members expected to be sworn in to the Florida House, six are GOP members who ousted Democratic incumbents. Four of the defeated Democrats sat on education committees and were vocal opponents of parental choice legislation. They were elected in swing districts in 2012, a year in which the statewide teachers union and its allies claimed a series of electoral victories. According to media reports, they were targeted this year by outside groups that supported school choice.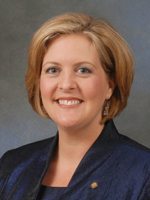 "It would make sense that they would go after their biggest critic," Rep. Karen Castor Dentel, D-Maitland, one of three public school teachers in that group, told the Miami Herald. Earlier this year, she was a leading opponent of wide-ranging legislation that created or expanded school choice programs, including tax credit scholarships and new education savings accounts for students with special needs. (Both programs are administered by nonprofits such as Step Up For Students, which co-hosts this blog.)
Castor Dentel was defeated by Bob Cortes, a businessman and city commissioner in Longwood. He said Democrats paid for ads and mail pieces portraying him as "this big bad wolf" who was "going to try to take money away from public schools" to fund charter schools and private school vouchers. Voters, he said, "didn't buy that."
"They went after me for my stance on school choice and I think it backfired," he said.
Cortes has sent all three of his children to public schools in Seminole County, one of the highest-rated school districts in the state, and said he wants to see those schools thrive. He supports school choice, he said, because not every parent is fortunate enough to live near district schools that meet their needs.
There is some diversity in the ranks of incoming members.
The House has traditionally been more skeptical of regulation of choice programs. But one of this November's successful candidates — Rene "Coach P" Plasencia, who defeated Democratic Rep. Joe Saunders for another Central Florida House seat — is a public school teacher who has called for more regulation and, according to the Orlando Sentinel, opposed other parts of his party's education platform.
It's hard to gauge the extent to which this year's election results can be chalked up to candidate's policy preferences as opposed to a broader sweep of Republican success, fueled by the national mood and a clear fundraising advantage in Florida.
At the same time, state Sen. John Legg, R-Trinity, is among those saying wins by candidates like Cortes — who saw school choice play a prominent role in their races — could make it harder for Democrats to keep up the united front that marked their opposition to school choice legislation earlier this year.
"I think they're going to have more of a challenge arguing that customization is not what voters are asking for when voters have responded overwhelmingly that they want customization in both public and private schools," said Legg, who chairs the Senate Education Committee.
And so, while key lawmakers have yet to formulate the specifics of their education agenda for the next two years, Legg said he expected they would begin a deeper exploration of ways to tailor education to individual students — regardless of where they go to school. Customization is no longer just about charters or vouchers, he said, but responding to technological change and the resulting "pressure from kids and what they're accustomed to."
Preparing for that shift will require working with educators of all stripes, a process that got a big push at an event Legg hosted last week in Tampa. For example, school districts might need more flexibility to shape courses around students' mastery of the material, instead of seat time.
As a result, Legg said, "I think you will see a coalition building that didn't exist before."