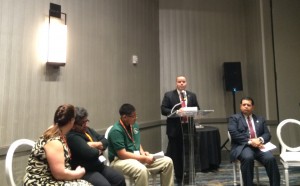 Valentin Mendez said his struggles began when he moved into sixth grade at public middle school in Miami.
He was bullied. He couldn't focus. He began to flounder academically. His mother, Jeannethe Ruiz, said he also struggled with English. His problems got so bad at one point that she pulled him out of class for two weeks, and started casting about for other options.
That's when she found out about La Progresiva Presbyterian School in Little Havana, and the Florida tax credit scholarship program — a model that policymakers around the country are learning about during a two-day gathering for education advocates in Miami.
Without the scholarship, tuition would likely have been out of reach for their family. Mendez said his mother works at a gas station, his father at a tire shop, putting in long hours that have motivated him to perform in school.
"They want me to have a better life," he said. "I'm glad that I'm in a school now where I can make them proud."
Ruiz and Mendez spoke at a press conference at the start of the Hispanic Council for Reform and Educational Options' annual summit, which has drawn lawmakers, including some from deep-blue states, who say they're intent on expanding educational options back home.
Illinois state Sen. Martin Sandoval called the Florida program, which is administered by Step Up For Students, which co-hosts this blog, "a national model, one that I am going to be studying for the next few days and weeks."
Sandoval said he's been a longtime advocate for improving public schools – one of which, in Chicago, is named after his late sister. He said efforts to invest in community schools should come alongside expanding opportunities for students like Mendez.
"We should focus on whether kids are succeeding in school, not what school they are succeeding in," he said.
New York State Assemblyman Marcos Crespo, who represents the South Bronx, said he planned to redouble his efforts to pass New York's version of a tax-credit program, which would allow that state "to do for our children what Florida is currently giving theirs."
He said his district includes a housing project, recently renamed for Supreme Court Justice Sonia Sotomayor, who as a child moved to a Catholic school that helped her achieve her full potential. Her school, however, was recently forced to close, amid what the New York Times described as a spate of closures of successful schools in low-income neighborhoods.
The program proposed in New York, which came close to passing early this year, would help create "opportunities for more Justice Sonia Sotomayors in our community."