Fifteen parents of tax credit scholarship students in Florida will be allowed to help defend the nation's largest private school choice program against a lawsuit that aims to end it, a judge ruled Friday.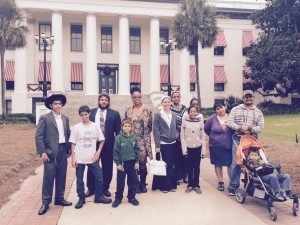 After a 25-minute hearing, Leon County Circuit Court Judge George S. Reynolds III granted the parents full intervenor status in McCall v. Scott, the suit filed Aug. 28 by the Florida teachers union, Florida School Boards Association, Florida PTA and other groups.
Several parents attended the hearing, including a Tallahassee parent whose son was relentlessly bullied in public school, a doctor's assistant from Fort Lauderdale who fled Venezuela after the election of Hugo Chavez and a Wesley Chapel mom with two daughters at the highly regarded Academy Prep private school in Tampa. The other parent-intervenors include a public school teacher from Miami.
The 13-year-old scholarship program serves about 69,000 low-income students this year, and is administered by nonprofits such as Step Up For Students, which co-hosts this blog. The plaintiffs say it violates constitutional prohibitions against state money going to religious institutions or to a non-uniform education system.
A court filing said the parents wanted intervenor status because they had a "direct, substantial and immediate" interest in the program that "will not vary over the course of this litigation, whereas the Defendants' interests in this lawsuit are liable to shift with the political winds." The defendants include Gov. Rick Scott, members of the Florida Cabinet and the state Department of Education.
"While our interests are complementary, our interests are not identical," the parents' attorney, Karen Walker, told the judge. "We should be able to use every tool in the toolbox" to defend them.
The defendants had no objections.
The plaintiffs agreed prior to the hearing to allow the parents to intervene, but not with "full party status."
They said the proposed intervenors intended to raise issues beyond the constitutionality of the scholarship program and noted repeated references, in the proposed intervenors' filing, to other school choice options used by the parents, including charter schools and McKay scholarships for students with disabilities.
The plaintiffs' attorney, Lynn Hearn, called the parents' request for full status "unprecedented" and described it as "asking for special treatment."
A hearing to consider the state's motion to dismiss the suit is scheduled for Feb. 9.
Other coverage: Palm Beach Post. Tampa Bay Times. News Service of Florida.