Critics of school choice programs often say they harm public schools, and that taxpayer resources would best be used educating "all children" in public schools.
A new study, however, joins a growing body of research suggesting competition from private school choice programs may actually lead to small, but detectable, improvements in public school student achievement.
The study, "Competitive Impacts of Means-Tested Vouchers on Public School Performance," by Anna Egalite a post-doctoral fellow at Harvard University, examines the impacts of vouchers on public school students in Indiana and Louisiana.
She finds the voucher programs had a small but positive impact on public-school students' English achievement in both states, and small but positive impacts on Math in Louisiana, which she attributes to the competitive effects of students having new private school choices available.
To study the impact, Egalite employs four measurements: The distance between public and private schools, the density of private options near public schools, the diversity of private schools nearby and the concentration of private school options (one operator or many). She then focuses on the achievement of students who remain in public schools after low-income classmates accept vouchers to attend private schools.
Egalite summarized her research in a recent article for the Friedman Foundation, stating, "the positive impacts are generally small but appear to be largest in the lower-performing public schools, using measures of competition that include concentration and diversity of private school competitors."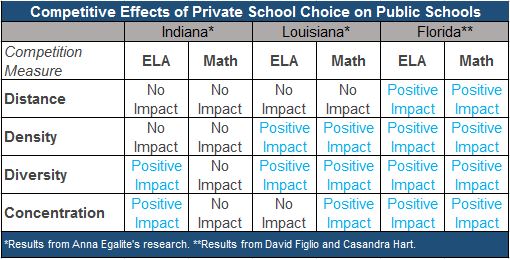 Egalite's results are consistent with 21 other studies that support the idea that new competition can spur public schools to improve, including nine studies that looked at Florida's private school choice programs — the Opportunity Scholarship, McKay Scholarship and the Tax Credit Scholarship. A summary of the competitive effects of the tax credit program on public schools can be read here.
Researchers believe the positive impacts, albeit small, occur because incentives from competition may actually matter. The threat of losing revenue due to students choosing a different school might just be motivating public school administrators and teachers to step up their game in order to improve learning and retain students.
David Figlio found (p. 35) improvements were strongest in Florida public schools with higher concentrations of low-income students and plentiful private options nearby for students to choose. In other words, schools with the most to lose from new competition saw the highest achievement gains.
This theory is also supported by Jay P. Greene and Marcus Winter's 2006 paper on the competitive effects of the D.C. voucher program on public schools. Of what are now 22 studies on the competitive impacts of voucher programs on public schools, this is the only study in which researchers found absolutely no impact at all. It also happens to be the only voucher program in the U.S. that "holds harmless" public schools that lose students to vouchers. By paying public schools to not educate students now attending other schools, D.C.'s hold harmless provisions may, in fact, strip schools of any incentive to improve.
Combined, these findings stand in contrast to the recent opinions of Shirley C. Arcuri of the League of Women Voters of Hillsborough County and Joanne McCall, vice president of the Florida Education Association.  Both have argued that by supporting only public schools, and opposing private options, they are helping all students.
Florida's decade long improvement in student achievement, especially for the state's poorest students, along with a 22 research papers on the competitive effects of vouchers creates a compelling body of evidence that these critics might be wrong. Offering choices that work for some students may be helping all students, even those who choose to remain in their neighborhood school.
Note: The summary of past research in this post has been updated to improve its clarity.